21 Daring Women Proving Street Art Isn't Just a Man's Game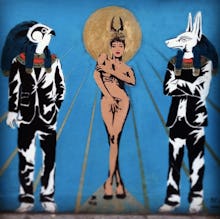 As far as the cultish universe of street art is concerned, it's a man's world.
Often illegal, even the most beautiful graffiti art is entwined with the high-risk activities required to produce it: running from police, climbing through abandoned areas and all of this often happening at night. As Catfight Magazine points out: "Graffiti, guerrilla art and urban activism still convey a stereotypically tough male image, but they are beginning to have other faces." 
Popular artists like Banksy and BNE have driven home the narrative that to be a famed street artist, you have to be initiated into an all-boys club.
But it's 2014, and like the rest of the world, the arena of street art has transcended gender norms. These 21 talented women prove girls can paint too, and not just with oils on easels.
1. Boxhead
Each of Boxhead's paintings include one or several young girls with faces completely obscured by, well, a box. What makes Boxhead's murals so enticing is her use of spot color on an often gray background, and her playful, youthful imagery. Her images are endearing and a bit melancholy. 
2. Saki
Japanese-born, London-based artist Saki leaves her comic book-esque "bitches" all over the city. Her artwork, which is influenced by manga, often depicts nude, busty women with exaggerated features in a way that some might view as gratuitous. But before you write off Saki and her "bitches," take a look at the curves and colors she uses; she's a talented artist with style who stays true to her roots.
3. Artista
Artista, South London born and raised, is a fixture of the U.K. street art scene. Her work often incorporates food imagery (she's known for her toasties) and portraiture. With a weakness for pastels and a knack for making her murals look delicious, Artista's work is instantly recognizable. 
4. Zina
This Norwegian artist is known for her hyperrealistic, blue-faced portraits. The piece she painted for the Leake Street Tunnel Takeover (pictured) was dedicated to her friend Laura Cherry, a model who was diagnosed with Morgellons disease. Her work is influenced by her love of music; when she sprays, she sprays to the beat she's listening to.
5. Mirah Shihadeh
Street art in Cairo is increasingly used by Egyptian women to draw attention to issues of street harassment. Mirah Shihadeh is just one of many artists, male and female, to use paint as a political platform.
6. Tatyana Fazlalizadeh
African-American and Iranian artist Tatyana Fazlalizadeh is known for her overtly feminist paste-up images of women, each coupled with a statement condemning and correcting gender-biased street harassment. The project, "Stop Telling Women to Smile," is focused on confronting "offenders, outside in public spaces." 
7. Ashes57
Both a photographer and graphic artist, Ashes57's murals can be found all around the globe. Often black and white, Ashes' work is easily recognizable by the genderless, disc-carrying creatures that occupy the worlds she paints. 
8. Cbloxx
Cbloxx's work is edgy, bold and a little bit out there. Her murals include portraits, otherworldly creatures, phantoms and the occasional bloody organ. Cbloxx's work is reminiscent of classic urban skateboard art, blending typically dark imagery — skulls, fighting hounds, jarred hearts — with popping pinks, blues and greens. 
9. Shamsia Hassani
Shamsia Hassani has been called a pioneer of the street art scene in Afghanistan and she's spraying walls in Kabul to combat dangerous gender bias in her home country. As she explains to The Culture Trip, "I have changed my images to show the strength of women, the joy of women ... I want to show that women have returned to Afghan society with a new, stronger shape. It's not the woman who stays at home. It's a new woman. A woman who is full of energy, who wants to start again. You can see that in my artwork, I want to change the shape of women. I am painting them larger than life. I want to say that people look at them differently now."
10. Thieu
French artist Stephanie Thieu creates murals focused on characters and exaggerated expression. The women and creatures she sprays and sketches are delicate, their features minutely detailed. 
11. Elno
Spanish muralist Elno mixes dark and light in her paintings. There's an almost carnival-type feel to some of her work, with women crowned in roses, their bodies tattooed; often her characters' faces have been replaced by skeletal ones. 
12. Princess Hijab
Notoriously elusive (it's not even entirely clear whether she is a woman or a character), Princess Hijab first splashed onto the scene in 2005, painting hijabs over advertisements in Paris' Metro centers. Her work has continually been reported as a response to the French niqab ban, but she denies this. Princess Hijab's work is about more than the niqab: It's about the place of immigrants in a continually changing France. 
13. Zabou
Londoner by way of France, artist Zabou uses her street art to break down gender roles and question typical images of womanhood and femininity. She challenges how we see women by taking often stereotypical images and pairing them with words that contradict or question the stereotype in question.
14. Nardstar*
This South African artist has garnered a serious following in her birth country and the United States for her vibrant animal murals. Sometimes Nardstar*'s paintings are realistic, sometimes they're Cubist and sometimes they're something else all together.
15. Miss Hazard
Street art is full of portraiture, but Miss Hazard adds a twist to her murals by creating paintings within a painting. You may be looking at a woman with a headscarf, but look again and you'll see a garden, other women and intricate patterns. 
16. Swoon
A fixture in both the U.S. and U.K. urban art scenes, Swoon — real name Caledonia Dance Currie — is known for her hyperrealistic, highly detailed paste-ups. But Swoon's work is more than just portraiture, it's a reflection of community and a political statement; her projects are closely linked to causes she's invested in, whether that's anti-war, Occupy or indigenous communities in Oaxaca and Brazil. 
17. Faith47
This South African muralist doesn't want to be recognized for her gender, only her artwork, and her murals speak for themselves. Her work is often somber and intelligent, with graceful lines and fragile features. 
18. Lady Aiko
Japanese-born artist Aiko creates overtly feminine street art murals, full of pinups and floral prints, pinks and purples and glitz. Her work may seem stereotypically gendered, but for Aiko it's about engaging in the kind of girlishness often absent from urban art: "I have one subject that guys cannot talk about. Guys can paint sexy ladies that they want to fuck, but the female figure is ours; it's also for us to enjoy. It's nothing against boys; I'm just celebrating female energy."
19. Miss Van
Miss Van is a veteran street artist who's been painting murals since 1993. This French painter creates fantastical, fairy-tale images. Women in her world look both human and animal-like, while animals take on human qualities. Everything is a bit topsy-turvy.
20. Neonita
Neonita brings the absurd and she brings the neon. A member of the Girls on Top Crew, a collective of female graffiti artists and muralists, Neonita has painted walls all over England, France and Germany. Don't expect to make logical sense of her work, which is filled with make-believe creatures engaging in often unexplainable activities, but take aesthetic pleasure in her creativity and use of patterns and color. 
21. Bambi
Stencil-and-spray artist Bambi is hailed as "the female Banksy." She may have a lot in common with the famously mysterious artist, but she's got her own signature style, generously using pinks, yellows and greens in her stencil work. Her sprays are often overtly political, referencing current events and cultural figures.