21 Great Songs for the First Days of Spring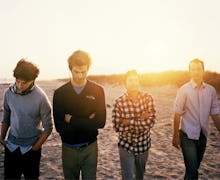 We are a country divided on many subjects, but we can all agree that this was a truly horrible winter.
But even the winter that introduced us to the Polar Vortex must come to an end. And today is that day — the official first day of spring. 
In honor of the day, we have created the perfect springtime playlist. Here are 21 recent joyful, upbeat indie songs.
1. "Easy" by Real Estate
Real Estate's breezy, upbeat style perfectly captures that relaxed fresh spring feeling.
2. "My Number" by Foals
This Foals track is super fun — it's guaranteed to shake off any of your residual winter gloom.
3. "Two Weeks" by Grizzly Bear
This song is the perfect soundtrack for a first walk in the park.
4. "She Lit A Fire" by Lord Huron
Lord Huron's sound is incredible — this song manages to be both expansive and propulsive.
5. "Weekend" by Smith Westerns
This is more or less exactly what a spring weekend feels like.
6. "Float" by Pacific Air
Nothing says springtime like some happy whistling.
7. "Falling" by Haim
Haim's catchy '80s-style hit perfectly captures the excitement of the season.
8. "Life's A Beach" by Django Django
This energetic track is guaranteed get you outside and moving.
9. "Stillness Is The Move" by Dirty Projectors
Bright, airy and happy — just like spring. We'd advocate for movement, though.
10. "Haiti" by Arcade Fire
It's a gentle and gorgeous romp.
11. "Cape Cod Kwassa Kwassa" by Vampire Weekend
Catchy and playful, this Vampire Weekend classic is just right for spring and summer.
12. "Dream A Little Crazy" by Architecture in Helsinki
This song is a little crazy, but still great.
13. "Something Good Can Work" by Two Door Cinema Club
The essence of optimism. It'll rub off on you for sure. And you'll need it when it's suddenly 30 degrees again.
14. "Walking On A Dream" by Empire of the Sun
The catchy, synthy vibe is a perfect musical match to the feeling of spring.
15. "Elephant" by Tame Impala
This is an indie power single if there ever was one. Also, it's a song called "Elephant" by a band named after an impala. What is not to like?
16. "If So" by Atlas Genius
An in–the–car, windows–down anthem. Fire it up.
17. "Go Outside" by Cults
No explanation needed. It is finally possible to comfortably go outside.
18. "Floating Vibes" by Surfer Blood
Surfer Blood is all about lo-fi warm weather rock. These heavy guitars feel like some good humid weather.
19. "Little Secrets" by Passion Pit
The beat turns seconds into the song and locks into a perfect spring jam.
20. "Australia" by The Shins
Forget that Garden State melancholy. Clearly, the Shins can be really fun.
21. "Seven Sisters" by The Shouting Matches
Bon Iver may be the king of gloom and moodiness, but his side project with his old friends is bluesy and ecstatic. Happy spring, everyone.