6 Ways Trans Women Are Helping Deliver Gender Equality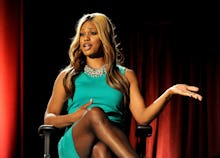 Women's History Month, like spring itself, came in like a lamb and, it seems, without much acknowledgement from the mainstream press.
The "War on Women" is just the latest cultural zeitgeist to capture the systemic inequalities faced by women in America. From the gender wage gap to increasing incarceration rates — or "Slavery 2.0" — the failure of the ERA in 1982 and the continued lack of a federal equal rights amendment are testaments to the unrelenting, pernicious and unethical treatment of women in America — especially women of color.
Image Credit: The Shriver Report
The movement for women's equality has occurred primarily within the LGBT community over the past decade, with the discourse of "equality" often framed in terms of marriage. DADT and DOMA were both federally repealed, and the marriage equality movement has a nearly invisible state-organized apparatus, thanks to two Supreme Court's decisions this past summer. As Chris Geidner illustrates in a spectacular marriage equality map at BuzzFeed, 17 states have legalized same-sex marriage, with nearly a dozen more debating the issue at various circuit court levels.
As a lesbian, I can't help but wonder if the LGBT movement co-opted much of the feminist movement's energy and resources. Not to mention how a particular strand of queer politics within the LGBT movement is arguably disparate in both intent and objective from the politics of the feminist movement — the latter of which is profoundly geared toward the desires of "Lean In"-oriented white cisgender women. As Jessica Valenti wrote in a recent article at the Nation: "The corporate interpretation of feminism has more to do with cheerleading all women's accomplishments than ending patriarchy and pushing for equal rights."
This is where the trans community makes all the difference, with its unprecedented legal and legislative inroads at the state and federal level over the past couple of years.I believe this community — particularly trans women — will deliver gender equality to us all on a federal level.
It's critical to note that the most powerful voices on this front come from trans women of color. Already oppressed by systemic racism, their intersectional existence has undoubtedly caused a feeling of urgency: Gender equality is a life or death matter for them. According to a recent report from The National Coalition of Anti-Violence Programs (NCAVP), titled Hate Violence Against Lesbian, Gay, Bisexual, Transgender, Queer (LGBTQ) and HIV-Affected Communities in the United States in 2012, trans women encounter disproportionate amounts of violence relative to cisgender women: "53.8% of [25] anti-LGBTQ homicide victims in 2012 were transgender women and 73.1% were people of color."
To attain its ultimate goal of an equal rights amendment, the women's movement must rise from a coalition of diverse communities. It must include and accept all women, cis and trans gender, to achieve endgame. So far, the victories won with the help of transgender women are extraordinarily impressive, especially for such a marginalized community:
1. Creation of the Violence Against Women Act (VAWA).
For the first time in its 18-year history, the Violence Against Women Act includes protections for the transgender community, as well as for the larger queer community. 
2. Passing a trans-inclusive ENDA in the U.S. Senate.
The Employment Non-Discrimination Act, which bans workplace discrimination against the LGBT community, passed in the Senate last fall 64-32, and will be debated in the U.S. House this fall. Although ENDA advocates are fighting an uphill battle, the inclusion of the 'T' in LGBT was an essential step in the process and proves the growing power behind the trans movement.
3. Expansion of the Affordable Care Act.
The trans community was integral in expanding the Affordable Care Act. It now allows access to insurance coverage for many who were denied in the past, and will prevent exclusion of coverage as well. The ACA prohibits gender-based discrimination by most health care providers, which in turn prohibits discrimination based on gender identity and gender stereotypes.
4. Growing protections for trans and gender non-conforming children.
The  U.S. Dept. of Education has increased protections for students who do not conform to sex stereotypes, including protecting them from sex-based discrimination under Title IX and Title IV. Meanwhile, advocates around the country are pushing for trans and gender non-conforming protections in schools, successfully achieving legislated policies in California and new recommended guidelines in New York City.
5. Big wins in health care discrimination.
Earlier in March, transgender communities earned a huge win when District of Columbia Mayor Vincent C. Gray announced his approval of an initiative to prohibit gender identity discrimination in health insurance plans. The expansion of health care insurance, particularly Medicaid, is an important step in the journey toward equal health coverage for all Americans.
6. Increased awareness of gender equality issues on social media.
The strongest voices on behalf of feminism and gender equality in media have been those of trans women activists. Janet Mock, Laverne Cox, Mara Keisling, CeCe McDonald, Julia Serano, Pauline Park —these women have been tireless advocates for transgender equality and, more broadly, gender equality. Each one has contributed to a productive re-imagining of feminism in the 21st century, from Mock's celebratory #GirlsLikeUs campaign to Serano's award nominated trans-feminist manifesto, Excluded, which scrutinizes both traditional and oppositional modes  (heterosexism, cissexism) of sexism.