This Military General Is Accused of Sexual Assault and You're Probably Paying His Pension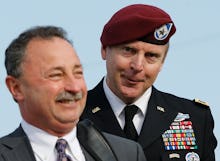 What does a high-ranking Army general get after being accused of sexually assaulting a junior female officer? Jail time? Nope. A demotion? Nah. A slap on the wrist? Pretty much. 
Despite being accused of a sexual assault, the only consequences Gen. Jeffrey Sinclair will face are having to pay a small monetary fine of $5,000 over the course of the next four months and a $4,100 fine "for improper use of his official credit card." If you do the math, that's less than $25,000. Because he pleaded guilty to lesser charges, the millitary court decided to drop the allegations regarding sexual assault.
Image credit: AP
But don't worry, Sinclair might not receive his full pension. The key word here of course is might, because that might not even happen. In fact, your tax dollars might still go to this guy — not only for a couple of months, but potentially for the rest of his life. Sinclair argued that it would be unfair for the military judge to take away his $15,000 monthly salary because it would "punish his family." 
Given that female politicians like Rep. Jackie Speier (D-Calif.) and Sen. Claire McCaskill (D-Mo.) have been working tirelessly to reduce the epidemic level of sexual assault in the military recently, this judge's decision only adds insult to injury as far as holding the military accountable. In a previous statement Speier notes, "Service members should not fear their colleagues more than the enemy," and, "Until we see more prosecutions, more offenders punished for their crimes, and more victims confident enough in the military justice system to report these crimes, we will not see a significant improvement in the incidence of sexual assaults in the military." After the decision to let Sinclair off with nothing more than a fine was announced, Speier tweeted her dismay.
This judgement, coupled with a bill designed to take sexual assault prosecutions out of the hands of the chain of command that was killed in the Senate only a couple of weeks ago, proves the urgent need for reform. Had the Sinclair case been heard in a regular court, as opposed to a military one, the decision would have probably been drastically different and his punishment much more aligned to civilian sentences for similar crimes.
Image Credit: AP
Unfortunately, the Sinclair case is not an anomaly in a system that's clearly broken. Out of the 4,000 sexual assault cases in the military in 2012, only 191 sexual offenders were convicted. That number is frighteningly low and won't change without a serious effort to improve how the military handles these crimes. A female member of the military is more likely to be raped by a fellow solider than killed by enemy fire. If we continue to give service members and high-ranking generals a pass, that will never change. 
What do you think about this decision? Let me know what you think by commenting on Twitter and Facebook.