This Might Be One of the Stranger Viral Pictures From the Crimea Crisis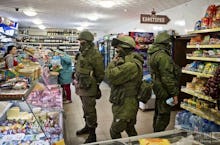 It's over. Following a referendum in which Russia claimed 97% support for Crimean annexation — a proposition that is frankly ludicrous, considering Crimea's high numbers of ethnic Ukrainians and Tatars — the Ukrainian military has officially been ordered to withdraw from the peninsula. Instead, the armed forces of the Ukraine will apparently be ordered to fortify their eastern border with the Russian Federation in an attempt to prevent Vladimir Putin's government from making another power grab in provinces like Kharkiv.
As far as Russia is concerned, this ordeal is over. This photo of Russian (sorry, "unknown" — or are we still playing that card?) forces shopping in a grocery store in Crimea has been making the rounds:
Leading Foreign Policy's David Kenner to quip:
Related: This admittedly pretty funny piece of protest art.
It's unclear whether the West has the power to do anything other than issue sanctions, targeting some 20 officials including senior Russian advisers and "cronies" as well as one major bank in Russia. Russia has retaliated by issuing sanctions against U.S. officials including speaker of the U.S. House of Representatives John Boehner (R-Ohio), Senate Majority leader Harry Reid (D-Nev.) and Sens. John McCain (R-Ariz.), Robert Menendez (D-N.J.) and Mary Landrieu (D-La.). And the EU, wary of the damage a sanctions spiral could do, has decided to reserve major sanctions for any further future escalation by Russia.
McCain recently issued a statement on the escalating sanctions, saying: "I guess this means my spring break in Siberia is off, my Gazprom stock is lost and my secret bank account in Moscow is frozen. Nonetheless, I will never cease my efforts on behalf of the freedom, independence and territorial integrity of Ukraine, including Crimea."