You Won't Find Delta's Latest Perk on Any Other Airline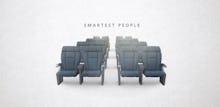 Networking is no longer a thing of elite gatherings at private clubs or destinations. Even if you're not in the "right" circles now, thanks to Delta Airlines, you can sit right next to your favorite industry thought leaders, muster up a brilliant conversation and pick their brains for success secrets.
And all at 35,000 feet in the air.
This year, the airlines company is partnering with LinkedIn to host Innovation Class flights where lucky winners can fly alongside select industry thought leaders. The "mentors" are announced ahead of time and applications are open to the public.
"As a company all about connections, it seems only natural to do something with this," said Sean McLaughlin, creative director of the Wieden+Kennedy agency that came up with the idea. "Could we take these people at the top of their industry and find a way to pair them up with someone just trying to break in to that field? That seemed too good to pass up."
The first Innovation Class flight on March 14 included "mentor" Eric Migicovsky, founder and CEO of Pebble Technologies and "mentee" James Patten, an inventor and visual artist.
Their flight to Vancouver, BC is documented in the following video:
The next flight on May 5 will be with chef Sean Brock as he travels from Charleston, SC. to New York to attend the James Beard Foundation Awards.
The airline's initiative seems similar to Amtrak's #AmtrakResidency which enables writers to win a free luxurious long-distance train ride to write. Have transportation companies finally realized that many travelers use distance travel to recharge their creative juices? Will we start seeing a trend of transportation companies using innovative PR to get in the good graces of creatives?
Some people aren't too sure about Delta's new program, such as TIME's Denver Nicks who argues that having to overhear "brown-nosing would-be 'innovators' loudly trying to impress important people sitting next to them" is going to be "irritating."
We're hoping Delta will put these people in a nice, quiet corner somewhere on the plane for Nicks' sake, but either way, we're very excited about the attention creatives are finally getting from corporate giants.