A Caged City Is Floating in the East River, and Most New Yorkers Can't Find It on a Map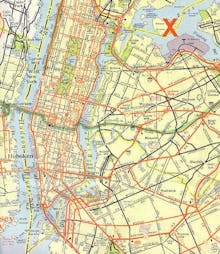 On Wednesday, the Associated Press reported that a mentally ill homeless veteran was found dead in a Rikers Island jail cell, most likely from heat stroke or dehydration. Jerome Murdough, 56, was locked in a 6 by 10 foot cinder block cell when "malfunctioning equipment" turned his concrete cage into a lethal 100-degree heat box. New York City Mayor Bill De Blasio called the death "shocking and troubling." 
The tragic incident casts a harsh light on another reality that is far too easy to ignore. Jennifer Wynn perhaps said it best in her book Inside Rikers: "It doesn't take many visits to 'The Rock,' as the inmates call it, to see that Rikers Island is the dirty secret of the richest city on earth, a caged city floating in the East River that most New Yorkers couldn't find on a map."
Alma Murdough (mother) and her daughter Cheryl Warner (sister) hold a photo of Jerome. Image Credit: AP
The inmates, the majority of whom are detainees and have not yet been convicted, are removed from New York City — and New Yorkers are extremely removed from them.
The disconnection is particularly unsettling considering the humanitarian concerns. There is also unnecessary fiscal burden on New Yorkers, as they are paying for needless detentions. And because of idleness and overcrowding, violence is high, inmates come out more hardened, angry and wired for crime; preventable recidivism, which is unacceptably high, poses a considerable risk to society.   
Rikers Island, at over 400 acres, has been called the world's largest penal colony. It sits in the East River between Queens and the Bronx, adjacent to LaGuardia Airport. It has 10 major jails: one for sentenced males; one for sentenced and detainee females; a detention center for adolescent males; and seven other jails that house adult male detainees. The jails have a combined capacity of nearly 15,000 inmates, which is far greater than the the borough jails in Manhattan, Queens, Brooklyn and the Bronx, whose combined capacity is roughly 3,000. The Department of Correction (DOC) also manages two hospital prison wards. In total, the DOC oversees more than 81,000 admissions and releases annually. 
Data for all New York City jails. Image Credit: New York City Independent Budget Office (IBO)
According to a DOC report, about 40% of the city's inmate population was detained on one or more violent felony charges. Seventy-seven percent had been detained one or more times and had, on average, about nine prior admissions to DOC. In 2013, almost 40% were diagnosed as mentally ill.
More than 70% of inmates in the city's jails at any given time are detainees, meaning they are awaiting trial and have not yet been convicted.
In many cases, they cannot afford bail. Bail protocols differ by state, but generally, the amount posted, or if bail is offered at all, is the result of various considerations: the severity of crime; danger to the community; flight risk; and incentive to return for the bail. Some defendants are offered bail but cannot front the requisite percentage of a bond. Some are inhibited in posting bail because the judge has ordered an examination of surety to establish that the money is not from questionable sources. 
On an average day in 2012, there were about 12,200 inmates in New York City's jails. On average, the annual cost to the city for each inmate is $168,000. Rikers Island has a $860 million budget. 
The longer the detainee awaits his or her trial, the bigger the cost to the city grows. This is particularly concerning considering New York City's courts simply do not function efficiently. As the New York Times reported last year on Bronx criminal courts, "delay and dysfunction are the norm and central ideals of the American justice system — especially the promise of a speedy trial — have been disgracefully subverted." State guidelines require that a trial is held within 180 days of indictment, but 73% of Bronx felony cases took longer. Many take years. 
Simplified flowchart of the legal process. Image Credit: Tri Vo 
"The pace of criminal case processing in the courts is therefore a major determinant of the cost of running the city's jail system, where the department's total cost of incarcerating each inmate averages $387 per day," the IBO reported. They also found that the average amount of city jail time deducted from the state prison sentences of convicted felons has increased in recent years, rising from 5.5 months in 1994 to 9.6 months in 2010.
Image Credit: IBO 
Behind the walls, Rikers is struggling with a surge in violence, recent reports claim. This is undoubtedly a concern, but perspective reveals the situation is not at its worst. Jerry Barry, 52, was a corrections officer from 1986-2006, in charge of 72 inmates. "Back then, it was much more violent." The beginning of the crack epidemic in the late '80s saw massive overcrowding at Rikers Island, and the population exceeded 17,000. Eddie, 48, who preferred to not give his last name, was also a corrections officer at Rikers at the same time. "It [was] an animal house, to be honest with you. ... It was hell before Giuliani."  
However, a comparison to the past does not excuse the violence and maltreatment of prisoners today. And though wasted money and gross systematic inefficiencies are infuriating, it's the reported lack of humanity towards inmates that remains the most disturbing thing about Rikers. One goal listed in the DOC's report is to "provide inmates with timely access to health services." There have been numerous, appalling instances documented that indicate this objective is not employed fully or appropriately.
Jerome Murdough, the homeless man who died on Wednesday, was a former Marine. He fought for this country, and years later, he "baked to death" in a cell on Rikers Island. His charge to begin with? As the AP wrote, "[He] was just looking for a warm place to sleep on a chilly night last month when he curled up in an enclosed stairwell on the roof of a Harlem public housing project."
He was arrested for trespassing.