Shailene Woodley Won't Let Hollywood Turn Her Against Jennifer Lawrence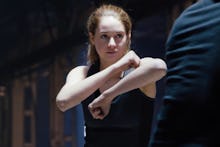 The media loves a catfight. 
Now that the highly anticipated film adaptation of Divergent — a Hunger Games-esque dystopian tale — is officially in theaters, comparisons between its star Shailene Woodley and Jennifer Lawrence are rolling in. According to Joanna Robinson of Vanity Fair's "The Next Jennifer Lawrence?," "If Woodley's other adaptation of a popular Y.A. book, The Fault in Our Stars, doesn't do well then J. Law can breath a sigh of relief that her supremacy is safe. For now."
Apparently being an "It Girl" is just like being the Lord of the Rings: There can only be one.
Again and again, the media pits successful women against each other, making one's rise contingent on another's fall. And this is bullshit. Even when recently goaded to dish about her supposed rival, Woodley wouldn't bite:
This same kind of uber-competitive narrative surrounded the Oscars, with bloggers and critics clamoring to deem Lupita Nyong'o the "Next Jennifer Lawrence" despite their having very little in common besides their gender. And after Nyong'o's win for Best Supporting Actress, ABC News declared that she'd officially snagged the coveted "It Girl" crown: "Don't worry Lupita, nobody is dethroning in the foreseeable future." 
Because society still allots fewer spots for women at the top, the competition between them for roles — or really, any job — might seem stiff. But these are hardworking, talented and successful actresses who appear to be supportive of one another. Not only has Woodley asserted that she has no beef with Lawrence, but she's even said that she reached out to her for advice before taking the role in Divergent. And though people choose teams in these debates, this isn't some Twilight love triangle. Shailene Woodley is not the next Jennifer Lawrence — she's the first Shailene Woodley.
There is no throne. Acting is a profession like anything else, and it's entirely possible to celebrate their accomplishments without tearing other women down.