Watch This Heroic Lesbian Confront Anti-Gay Church Leaders, Asks Them to Stone Her.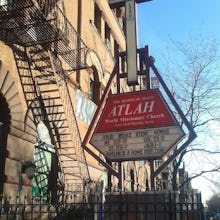 "Harlem is a homo free zone," the sign mistakenly said outside the ATLAH World Missionary Church in Harlem, New York. Quoting the infamous Leviticus 20:13 ("If a man has sexual relations with a man...") and Deuteronomy 17:5-7 ("Thou shalt stone them with stones..."), the sign also proclaimed, "Jesus would stone homos."
When Jennifer Louise Lopez, a Harlem local and lesbian, saw the sign, she decided to call the church's bluff. 
Image Credit: Jennifer Louise Lopez
The next day, Lopez knocked on the church door and told the man who answered that she had seen their sign.
"I'm here for my stoning," she said. "I'm a lesbian."
In a minute-long exchanged filmed by Lopez and posted on her Facebook page, the man tells Lopez he doesn't have any stones and that she should come back the next day. 
"That was like something out of a Monty Python" sketch, one commenter wrote. 
"I hope that by going up to the door and presenting myself as the human and the product of Godess' creation, churches can begin to understand that us lesbian, gay, bisexual and transgender people are the very same creations that they are," Lopez told the Huffington Post. "My Godess is one of peace, love and inclusion for everyone. As a United Methodist Christian, I would love to see that one day soon all of our churches, including any religion, are able to finally stop the discrimination toward LGBT people."
Lopez said she was inspired to act by Pamela Raintree, a trans woman who took down a city councilman named Ron Webb after he tried to repeal an anti-discrimination ordinance.
"I brought the first stone, Mr. Webb, in case your Bible talk isn't just a smoke screen for personal prejudices," Raintree said. Webb withdrew moments later. 
Commenting on Lopez's video, Raintree said, "I do hope you had a backup plan just in case."
This isn't the first time the ATLAH World Missionary Church, led by the controversial pastor Dr. James David Manning, an outspoken critic of Barack Obama, has offended with its conservative views. 
Last month the church's irksome sign read: "Obama has released the homo demons on the black man. Look out black woman. A white homo may take your man." In a video explaining the sign, Manning expressed support for Ugandan and Nigerian anti-gay laws, saying, "The people of Africa who will not have this God-forsaken abominational [sic], anti-creation, anti-integrity, anti-life, anti-humanity, anti-universal understanding, anti-DNA, anti-if-you-will-godliness established in our nation by this pervert, this son of Satan, Barack Hussein Obama."
Manning seems to show little sign of stopping, but if anyone can rally the troops against this purported pastor, it's heroes like Lopez — or comedian Lady Winifred: