'Phantom of the Opera' Has Cast a Remarkable New Lead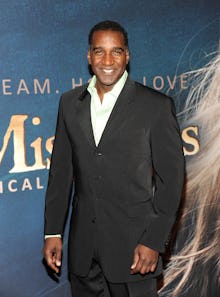 Amazing news, theater nerds! Producers for the most recent revival of the Broadway musical The Phantom of the Opera announced an historic casting choice Thursday. Norm Lewis, best known for his role as Senator Edison Davis on the Scandal (and his voice like butter), will be the first African-American to play the role of the Phantom in the show's 26-year run.
Expressing his elation, Lewis told the Associated Press, "I love the show but also to have hopefully set a precedent to see more diversity in casting."
If you need convincing that Lewis is going to crush it, just check out this clip of him performing "I Got Plenty o Nuttin'" from Broadway's recent Porgy and Bess revival. It is glorious.
Lewis' casting really is a big deal. While casting black actors in traditionally white roles is not a new phenomenon, every little bit helps in efforts to open up the still very white playing field. While he doesn't think the entire industry is racist, Lewis told the Daily Beast, "I would say that there is a certain image shows are used to portraying, a certain image in their minds when they are creating a show. ... there do need to be more opportunities for Asian, Latino, and African-American actors. If there is an opportunity to cast them in roles, producers should give them the chance to show their wares."
Today, only 22% of Broadway roles go to actors of color. African-Americans make up the largest portion of that statistic, receiving 14%. This is up from five years ago, when only 15% of roles went to actors of color. Still, the fact that a whopping 78% of roles are going to white actors is ludicrous, especially given that white people comprise 44% of the population of New York City. This historic choice will also hopefully attract more black audiences to theatrical productions, as right now Broadway audiences are also 75% white.
Ticket sales on Broadway have been slowly declining for years now. Perhaps if Broadway continues to update it's racial makeup to match the diversity of the city where it thrives, it may start to turn it's decline around. Casting a black actor in one of the most iconic Broadway roles is a fantastic start.
Now, we leave you with this: