Scientists Have Made a Huge Breakthrough Which May Revolutionize How We Treat Cancer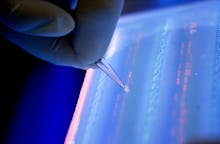 Scientists have screened over 1,000 different types of molecules to identify a compound that literally explodes tumor cells of the most common, most aggressive form of malignant brain cancer, glioblastoma multiforme. 
Glioblastoma multiforme is essentially incurable, with less than 5% of patients surviving three years. Most die within 15 months. But the new drug being tested reversed tumor growth in controlled experiments.
Six out of eight mice exposed to the substance for five days were still alive after 80 days, compared to a 30-day survival rate for the control group.
Published Thursday in Cell, the study only conducted testing in mice. But the authors, cancer experts at the Karolinska Institute in Stockholm, are confident that the Vacquinol-1 substance could have future applications in an entirely new way of fighting brain cancer in humans. The compound begins an effect in cancer cells called vacuolization — by which a cell carries substances from outside its cell lining to its interior — and then turns it up to 11. The result is the collapse of the outer cell wall, bursting the tumor cell.
Image: Karolinska Institutet
Vacquinol-1 was identified as by far the most effective out of the many compounds tested, isiolated from about 200 kinds of molecules which killed cancer cells. Researchers are very interested in progressing quickly to Phase 1 trials in the human population. 
"This is an entirely new mechanism for cancer treatment. A possible medicine based on this principle would therefore attack the glioblastoma in an entirely new way," says tissue biologist Patrik Ernfors, who worked on the study.
"This principle may also work for other cancer diseases, we have not really explored this yet. 
"We now want to try to take this discovery in basic research through preclinical development and all the way to the clinic. The goal is to get into a phase one trial."