'Dear White People' Is an Epic Victory for Black Hollywood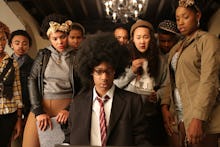 "Dear white people: Breaking news – the amount of black friends required to not seem racist has now been raised to two. Sorry, your weed man Tyrone does not count."
So begins the "concept trailer" for Dear White People, a biting independent satire written and directed by Justin Simien. The film premiered at this year's Sundance Film Festival to rave reviews, a special jury award for breakthrough talent and, according to Vulture, "effusive praise" from audiences.
But its future was never certain, being an indie comedy that deals with the ever-volatile subject of American racial politics. That changed Wednesday, when Variety reported that Lionsgate and Roadside Attractions had "acquired all U.S. and Canadian rights" to the film.
Being picked up by such noted distributors is an exciting indication that we could see Dear White People in theaters soon:
Dear White People Concept Trailer from Justin Simien on Vimeo.
Wake up! Roadside's co-president Howard Cohen said of the filmmaker: "Justin Simien is a funny, fresh and current voice with his finger on the Millennials' pulse."
The buzz seems to confirm this, but the reality is much deeper. "I grew up with movies like School Daze and Do the Right Thing and Hollywood Shuffle," Simien said in a CNN interview. "That was kind of like the heyday for me … Hopefully this film can be a part of bringing that back."
Clearly Simien's work draws from a legendary slate of influences. The late 1980s and early '90s are recognized as a watershed moment for independent filmmaking, and black film in particular. Spike Lee is a huge name to emerge from the period, provoking audiences with his disruptive voice and unique brand of stylized racial satire.
That Simien draws inspiration from Spike's early (best?) films is exciting and entirely apparent from the video evidence – from the colorful graphics and oppositional bravado to the brainy vigor with which characters deliver lines.
Modern times: Updating this brand of satire for contemporary audiences not only seems logical, it's perfectly timed. At its core, the film deals with the complex dilemma of "being a black face in a white place" – a subject that's since made headlines in the form of numerous student-led protests and social media campaigns.
Dear White People specifically features a group of four black students at the fictional Winchester University, who navigate questions of identity amidst such facepalm-inducing occurrences as neglectful restaurant servers and race-themed college parties. Sound familiar?
But Simien says his film deals more with American culture on a grand scale than racism alone – though the two are inextricably entwined. "The truth is, my film really isn't about 'white racism' or racism at all," he wrote in a Huffington Post op-ed. "As I see it racism is systemic and is inherently reflected in any honest story about life as a minority in this country."
He adds: "What my film is about however is identity. It's about the difference between how the mass culture responds to a person because of their race and who they understand themselves to truly be."
That such issues could soon become a topic of discussion on movie screens throughout the country is borderline staggering. Just like She's Gotta Have It, School Daze and Do the Right Thing heralded a new era in black cinema in the late '80s, Dear White People is putting in work to revive their energy for young filmgoers today.
And that's not just good for black movies. It's a huge #WIN for movies in general.