People Are Buying Property in South Chicago for $1. Really.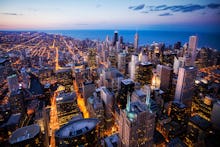 The news: There are lots of little things you can buy with a dollar — a pack of gum, a candy bar, anything from the 99-cent store.
But on Thursday, the Chicago Plan Commission empowered the city's residents to buy something a little bigger: a vacant lot.
That's right, for the low price of $1, qualified residents can purchase entire city-owned lots in the South Side's Englewood neighborhood. "It's designed to move vacant properties out of the city's hands and into private ownership," said Mayor Rahm Emanuel. "People can use the land to expand the yards around their homes, to create gardens on their block, or for beautification, housing, or for other purposes."
Cool. Sign me up. Not so fast, buddy — the Large Lots Program only lets you buy if you live on the same block as the property you wish to purchase. The initiative's goal is to target investment in areas that have experienced "a crippled housing market, lack of employment opportunities, and many years of population decline."
Englewood meets these criteria with flying colors. In 2012, Chicago led the nation with 500 homicides, with the South Side earning a dubious reputation as a hive of street gang activity. This characterization went mainstream through a spate of troubling media reports and, in pop culture, the city's burgeoning "drill music" scene:
Courtesy: Noisey
Englewood has constantly been at the center of this conversation. The Chicago Reader calculated that 42% of the neighborhood lived in poverty in 2012, with a homicide rate of 48 per 100,000 residents – second only to Fuller Park:
Image Credit: The Chicago Reader
To top things off, 99% percent of the area's population is black. The correlation between race, poverty and violence is unsurprising considering the city's history of racial segregation and government neglect. With discrimination in housing, employment and education breeding the geographical concentration of poverty, an environment of abuse, addiction and violence was permitted to thrive. Steve Bogira writes: "If you want children to become violent in their teens and early 20s, these are the right ingredients."
To date, Chicago is one of the most heavily segregated cities in America:
(KEY: Red = white people; blue = black people; orange = Hispanic; green = Asian)
Image Credit: Business Insider
But in terms of the violence, times are changing. With homicides down across the board, officials are taking measures to boost the region's cachet. Other cities like Warren, Mich. and Milwaukee, Wisc. have tried cutting maintenance costs and building up blighted neighborhoods through similar one-dollar property programs, according to the Huffington Post. But their success is debatable.
Jeffrey Lubell, director of housing initiatives for a public policy and business research firm called ABT Associates, told HuffPo that such initiatives are rarely successful "unless the scale … and intervention and investment from a city is significant."
So will it work in Chicago? Concerns have already been raised, specifically about the money required to develop lots into anything more than gardens. Even though applicants must be up to date on property taxes and tell the city how they plan to use the property before they buy it, actually building anything would require funds most Englewood residents just don't have.
Clara Kirk, who operates two women's shelters in the neighborhood, said: "That's where the expense would occur and I'm not sure if people will have the money to do that. I know I don't."
So who will buy the lots? And what will they become? These are all questions to be answered sooner rather than later. In the meantime, fingers crossed that local residents can scoop up these one-dollar lots and transform them into something amazing – whether it's gardens, housing, businesses or something totally unexpected.