Inside the Digital Platform That's About to Revolutionize Book Publishing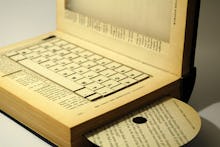 The e-book is not going away — and that's not a bad thing for books. 
Ever since the advent of the Kindle, a doomsday cloud has hovered over the world of book publishing, a portent that the rise of the e-book will mean the fall of the print book, and eventually the end of any good literature at all.
Even with recent optimistic forecasts for the future of books, the underlying assumption driving the conversation is still that technology and traditional literary reading are somehow incompatible, different ways of life.
But recent studies have shown that for our generation of readers (aged 16-29), this simply isn't true. Millennials are not only checking Twitter on our iPhones and updating our Facebook Timelines, we're also using libraries more and outreading other generations in any and all formats.
The surely closing gap between technology and reading means that now is a revolutionary moment in book publishing, a moment for publishers, authors and readers alike to reimagine the possibilities of literature. And it's happening: writers like Teju Cole are writing stories on Twitter; literary magazines are experimenting with multimedia; and companies like Scribd, Oyster and Kindle Singles are expanding the definition of what an e-reader or iPad app can do. 
The interactive cover of Atavist Books' first book is designed by Chip Kidd and features a sleepless eye that reacts when you poke it. Check out the preview here.
PolicyMic got a behind-the-scenes peek of the workings of one such company, Atavist Books, which launched March 25 with Karen Russell's e-book Sleep Donation, a dystopian novella about an insomnia epidemic that sweeps America. Sleep Donation is exciting not only because it is imaginative enough to prove Russell is MacArthur "genius"-worthy or because it has a beautiful interactive cover, but also because it is the first digital-only book by a big-name literary author like Russell.
Bestselling authors like Stephen King have gone down nontraditional publishing routes before, but the e-book is still generally seen as a successful format for "downmarket" genre fiction (think Fifty Shades of Grey). Print books still hold more literary heft. Russell's new work is extending the boundaries of what literary fiction can do — in both the novella's content and its form.
Russell's Sleep Donation comes with a website that extends the dystopian world of the book.
According to Frances Coady, publisher and president of Atavist Books, today's book industry is still primarily "built on paper." Coady, a longtime literary editor and publisher who revolutionized paperback publishing back in the heyday of print, is highly attuned to the evolution of the book. 
"Now here comes the e-book," she says, "and with it, all kinds of opportunity and chaos."
So far, the Big Five publishing houses have cashed in on e-books as an opportunity for revenue, but they haven't done much beyond that.
"Although the [traditional publishing] house might make a very large amount of money from digital, the print originators tend to see digital as a slightly embarrassing offshoot of print," Coady says. "This enmity is not useful." It was to push against this enmity that she partnered with the IAC-backed Atavist tech company to create Atavist Books.
Stepping into the Frank Gehry-designed IAC building, where the company's offices are located, one already feels the lines between literature and technology blur. The offices look more like Google than Penguin Random House: Tinted glass windows fade to reveal a silhouette of silver-stenciled trees, and a giant LCD screen scrolling through IAC's various brands spans an entire wall. And Coady, who has edited and published the likes of Eudora Welty, Edward Said and Salman Rushdie, brings with her a devotion to good books and, as she puts it, "wonderful writers."
Stepping into Atavist Books' offices in the IAC building feels like stepping into the future. Image Credit: Allposters.com 
"Readers don't think about digital versus print in the way that traditional publishers do," Coady says of the controversial publishing format. "Their format preferences are fluid. They want convenience and comfort, and sometimes that means a device and sometimes it means paper."
This observation is corroborated by the Pew Research Center, whose findings show that people under 30 "don't want e-books to replace print books. They see them as part of the same general ecosystem."
For Coady, the job of the modern publishing company is to reflect the fluidity of the new reading "ecosystem" in their business model. Part of this is making the digital and print books work together so that they're, as Coady describes it, "joined at the hip." While traditional publishing companies tend to delegate the e-book to IT departments and often outsource the e-book for conversion, "editorial at Atavist Books takes full responsibility for the digital." To create the digital book, Coady, the author and the Atavist app designer sit down at the table together. The result is an e-book that does more than just replicate the text of the print.
"In every format, aesthetics rule," Coady says. "Our books look good." Instead of a bare-necessities digitized book, "you'll get this really gorgeous reading experience."
After writing the novella, Karen Russell wrote original content for the promotional website. 
In Coady's world, print and digital books exist in harmony. She also believes that the traditional model of hardcover-to-paperback editions will evolve into digital-to-print editions.
Atavist Books is experimenting with the idea of publishing a digital book first, then coming out with a "hybrid" print book — a paperback with the production quality of a hardcover. Publishing digitally first not only makes sense because for die-hard fans digitally will be the fastest way to get a book, but also because the digital book can create a social media platform to get the word out about the print book. 
"We do know one thing about books, which is: word of mouth, personal recommendation sells," Coady says. "This is true off line and on. Look at Goodreads. This is how people find the book they're going to love. Part of the reason to do digital first is to create the word-of-mouth campaign, to help the physical book."
When asked why she chose Russell's Sleep Donation for the first book, Coady says the book "felt like a perfect digital novella." Playing with the viral nature of Russell's imagined insomnia epidemic, Coady, Russell and the Atavist team created a promotional interactive website that will immerse potential readers in the world of the book without giving the book away.
The novella is structured in a series of breaking news stories, and the website will also break news stories that happen in the world of the book. While Sleep Donation is currently text-only, future projects include enhanced digital editions that explore multimedia, multi-level storytelling and books by people such as Eli Horowitz, co-creator of The Silent History, a "serialized, exploratory" novel for iPad and iPhone, and the Goggles, creators of the award-winning interactive documentary, Welcome to Pine Point.
The website for Sleep Donation seems designed for millennials : It even has a quiz.
The enhanced books are conceived as a collaboration between creative and tech teams and aim to produce an entirely new reading experience.
"What I'm not interested in is taking a brilliant literary novel and simply adding visuals," Coady notes. "But if you're working with people as creative as Eli Horowitz, Russell Quinn, Chris Adrian, the Goggles and the Atavist team, who are thinking about stories digitally from the outset, then you're living in the future every day."
For example, Hari Kunzru's forthcoming Atavist book Twice Upon a Time, a story about moving to New York City, will include recordings Kunzru has made of the city, music from Moondog, who Kunzru imagines as his guide, illustrations, photos and things like "words flying across the screen."
If there's a grand takeaway from what Atavist and similar companies are doing, it's that the book isn't dead — it's just evolving into something new. People who love iPhone apps and people who love good literature are not creatures from separate planets. The digital book is not only a new format, but also a new experience of reading. Perhaps the publishing industry is finally beginning to adapt to what we young readers have known all along.