What Bryan Cranston Looked Like as a 1985 Teen Heartthrob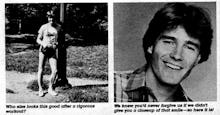 It may be hard to imagine now, but 30 years ago Breaking Bad's Bryan Cranston was a total teen heartthrob. From 1983 to 1985 he acted in the soap opera Loving, gaining the adoration of fans around the country with his charm and especially his big, sweet smile.
Oh, how times have changed. "You know how some people have a built-in smile? I look like I'm going to eat children," Cranston told the Guardian this week. Well, that's not what Teen Talk magazine thought in 1985. 
Pictures have emerged of a photoshoot Cranston did with the teen mag, showcasing him fooling around, playing baseball, working out in Central Park and just generally being a 1980s dreamboat.
Image Credit: Anorak
The magazine definitely didn't agree with Cranston's 2014 "scary smile" self-analysis. "We knew you'd never forgive us if we didn't give you a close-up of that smile," wrote Teen Talk before an image of Cranston flashing his pearly whites.
The photoshoot shows then soap star Cranston playing sports and plain old palling around playing the game he still loves. Around the time of this Teen Talk shoot, Cranston met his wife, Robin Dearden, whom he thanked in his 2010 Emmy speech, saying, "I love you more than baseball."
This photoshoot, while silly, is a testament to Cranston's hard work in the entertainment industry, grinding through roles for more than 30 years until he finally found icon-status success — not as a teen heartthrob or a kooky dad, but as a grizzled middle-aged man.
Image Credit: Anorak
"Bryan's got such great legs!" Teen Talk declares, as if we Breaking Bad fans didn't already know.
Despite his current reputation as a terrifying teacher-turned-meth-machine, it's important to remember that there's more to Cranston than just that. These goofy pictures prove it.
Bryan Cranston is a "jock of all trades."
Image Credit: Anorak