Four of the World's Most Iconic Rappers Went to High School Together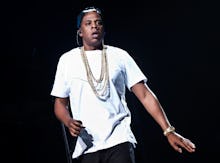 The New York Times featured a story this weekend charting the relationship between Americans' geographic birth place and their future success and fame. (The piece measures success and fame by the presence of a Wikipedia page, for the record.)
The study found that among Baby Boomers, geography more than family history has the greatest impact on whether a person will be famous. Study Sparknotes: Those living in major cities like New York are more likely to be famous than those living in more rural areas.
Even beyond the Baby Boomers analyzed, a cursory glance at Brooklyn proves this theory to be true. Hone in on Downtown Brooklyn's George Westinghouse Career and Technical Education High School, and you might find yourself wondering if perhaps certain high schools (and not just certain cities) are hubs for future success. George Westinghouse, a vocational public high school, boasts four alums who are members of the rap God pantheon: Jay Z, The Notorious B.I.G., Busta Rhymes and DMX. How's that for a relationship between geography and fame?
The Times describes New York as a city where "the value of being near successful practitioners of a craft when young" is unparalleled. Imagine the motivation you'd feel walking your high school hallways among a group of similarly aged, and similarly talented, individuals excelling in the same craft?
Throughout their rise to fame in the '90s, the four rappers collaborated. They featured each other on songs and toured together, and keeping up sense of friendly competition. They developed alongside each other with musical styles and practices, and were inspired by each other's music.
The men also rapped together in high school. Jay Z and Busta Rhymes were known rappers at George Westinghouse, while Biggie kept his music more on the street than in the schoolhouse. Once, Busta Rhymes and Jay Z even competed in a battle in the school lunchroom. 
Busta gladly admits that Jay Z beat him. The style at the time was speed rap, which Jay excelled at, but Busta lacked. 
"I gotta give it up," Busta says about Jay. "That was probably the first time I lost a battle that mattered. ... [Jay Z] always exemplified greatness as an MC."
If cities are hubs for success, maybe certain schools are as well — and they might not be the expected posh private schools filled with pedigree. Was George Westinghouse Career and Technical Educational High School founded to turn out rap legends? We can safely say, no. But proximity and perhaps the "value of being near successful practitioners" led to a well- paved road to rap icon status.