9 Little-Known Google Tools You Should Be Using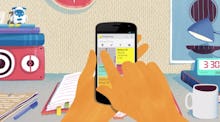 If you've explored Google, you know that it's much more than a search engine. With its wide range of extraordinary tools, Google is the backbone of the startup world, as entrepreneurs use these services to make their business rock. The great part is, so can you.
Google has access to what's trending in the world, so if you want to know what people search for and what they're interested in, Google can tell you that.
For successful businesses, whether your company has one employee or 1,000, there's virtually no such thing as too many of these workplace weapons. Here are the best little-known Google tools that will take your business and productivity to the next level. 
1. Google Keep
Entrepreneurs have a lot going on, and need to have everything synced up wherever they go. The company recently launched its Evernote-like service Google Keep, which syncs your Google Drive and organizes all notes across devices. This includes a note with your voice, photo or just a list.
While darting between meetings, the app allows you to take notes on the go with its speech-to-text function. Whatever you say will be automatically typed out.
This is an extremely useful tool if you brainstorm an idea or think of an email response, but aren't at your computer to type it out.
2. Google Trends
Ever wonder what gets searched and what doesn't? That's what Google Trends is for.
The tool is for presenting data visually, and researchers have used it to predict stock market transactions. You can even break down data by region.
Once you've identified relevant keywords to see what people are talking about in your industry, you can use them as content ideas for your company's website or blog.
3. Google Correlate
Google Correlate is similar to Google Trends, but allows you to explore search terms over time. For example, enter the term "flu" and see the increase in searches during colder seasons.
You can even input your own data so the tool will show data series with similar patterns. This could be helpful in determining what is most popular at specific times throughout the year.
For example, Google Correlate can tell you what people are searching for in the weeks before they buy a product and the weeks after the purchase. With this knowledge, you can create content and events related to these searches to promote your business.
4. Google Public Data Explorer
Need to crunch data? Google Public Data Explorer lets users search through a myriad of international databases like the U.S. Bureau of Labor Statistics and the UN Economic Commissions for information on unemployment, economic policy and more.
Once you've selected your data set, adjust the axes as you see fit. Users, be warned: Going down the data explorer rabbit hole may keep you immersed in graphs for hours. The tool allows you to put the data points in bar graphs, scatter plots or on a map so you can better explore, visualize and communicate your data.
5. Google Ngram Viewer
This data tool allows users to search through centuries of published work for specific terms.
It presents valuable research opportunities, as well as cultural insights that can be transformed into creative opportunities.
What drugs were big around 1900? When did body armor go out of vogue? You'll want to check out Google Ngram instead of another tool like Google Public Data Explorer to answer these questions.
6. Think Insights
Think Insights is an extremely useful tool for entrepreneurs because it's full of valuable consumer data and marketing insights, whether you're trying to attract customers, keep the ones you have or drum up brand loyalty.
Some have called it "data porn" because of its abundance of case studies, new findings and tips on launching and growing a business. This is a great tool to use when deciding where and how to spend your marketing efforts.
7. GoMo
Every website needs a mobile companion. That's what GoMo is for, Google's go-to resource and guide for developers. The site has content for those looking to get their mobile site off the ground, as well as experienced developers who want to optimize their presence for maximum impact. GoMo even provides recommended vendors to help you get your mobile site up and running. 
8. Google Hangouts
You may have heard about Google Hangouts when Google+ launched in July 2011. The free video conferencing software is fantastic for impromptu meetings, brainstorming or just chatting casually. You can use it to share graphs from Google Trends or ideas gleaned from GoMo.
Even President Barack Obama has used it. Did we mention it works on mobile devices too?
9. Get Your Business Online
Get Your Business Online was created with small businesses in mind. The site is chock-full of tips and lessons for entrepreneurs on topics like creating effective headers and footers to learning which websites link to you. Like Google Trends and Google Correlate, GYBO also explores how search terms get consumers to your virtual storefront. You can also sign up to receive GYBO video lessons in your inbox.