The Heart-Breaking Letter to the People of NYC, From the Brother of a Runaway Teen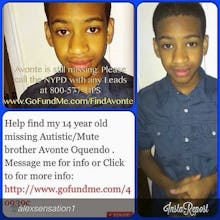 The news: In the months following October 4, 2013, Avonte Oquendo became a household name in New York City.
Image Credit: CBS New York
The 14-year-old autistic boy was last seen that day in footage from a security camera outside his Long Island City, Queens, school. He ran off campus for unknown reasons around midday and never returned, disappearing into the surrounding neighborhood. His autism rendered him incapable of speech:
Subway stations and sidewalks were quickly inundated with missing person posters, posting rewards of up to $95,000 for information leading to his discovery. They remained up for months, as Avonte's family and the people of New York maintained hope that he'd be found soon.
Sadly, it was not to be. On Monday January 20, parts of Avonte's body were found washed up on a beach near College Point, Queens. Coroners were unable to determine a cause of death, and the circumstances surrounding his demise remain unclear.
It was a heartbreaking moment for the entire city. But last Friday, Avonte's older brother Daniel Oquendo penned a beautiful letter thanking the people of the tri-state area for helping with the search and raising awareness around the risks facing children with disabilities. It was titled "The Search for Avonte."
Here's an excerpt:
"What happened next was one of the most inspiring events to ever occur in my lifetime. As word spread through social networks thanks to shared posts and retweets we began to see massive groups of volunteers coming from every corner of the tri-state area just to help us find our beloved Avonte. Word of his disappearance spread like wildfire and before we knew it there were masses of sympathetic volunteers ready to do anything in their power to aid us in our search. We went from a small family searching night and day for our loved one to a large operation with thousands of volunteers ready and willing to help in every possible way…
Let this be a reminder that at the end of the day, as tough as New Yorkers are, we can come together as one to achieve common goals that are in the best interest of our children, our loved ones, and our city.
On behalf of my family, I would like to thank all the searchers, marchers and everyone who held us in their thoughts for the love and support you have displayed during these extremely rough times. God bless you."
It's a powerful statement from a family enduring unknowable amounts of grief. Hopefully this letter contributes to what will doubtless be a tough healing process.
Helpful facts: According to the Amber Alert fact sheet, a child goes missing in the U.S. every 40 seconds. More than 700,000 go missing per year, about 250,000 of which are classified as "Runaways." However, Avonte's case illustrates a pattern more typical of adult disappearances: an estimated one-sixth suffer from psychiatric problems.
According to Todd Matthews, director of communications for the National Missing and Unidentified Persons System, the majority of missing persons cases are resolved. But the first three hours are the most critical – the longer Avonte's case was drawn out, the lower the likelihood he would be found. That his family and the city maintained hope as long as they did illustrates how powerfully his case galvanized people, and how much he meant to everyone.
Hopefully his death continues to raise awareness around the plight of missing and disabled youth worldwide.