This American Indian Rapper Just Became MTV's Artist of the Week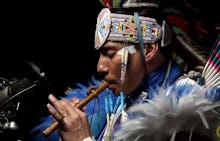 The news: Christian Parrish Takes the Gun. Remember his name.
The Apsáalooke American Indian hails from the Crow Nation Reservation near Billings, Mont., and on March 21, the MTV Iggy blog named him Artist of the Week from among hundreds of competitors.
What makes him special? Well, he raps under the name "SupaMan," he sings, he makes crazy drum loops, he's a champion powwow fancy dancer and sometimes, if you're lucky, he does all four at the same time:
Amazing. This is an exciting victory for a unique brand of hip-hop that's yet to garner significant mainstream recognition. Indigenous rappers have shaped the movement since the early days, from Melle Mel of the Furious Five – who is half Cherokee – to the contemporary stylings of City Natives and Red Cloud.
"Native Americans grasp that culture of hip-hop because of the struggle," says SupaMan. "Hip-hop was talking about the ghetto life, poverty, crime, drugs, alcohol, teen pregnancy; all that crazy stuff that happens in the ghetto is similar to the reservation life. We can relate to that."
Image Credit: MTV Iggy
SupaMan's upbringing made him a firsthand witness to all these things.  His parents were both alcoholics, and he spent much of his youth in foster care before moving in with his grandfather. His early attempts at making music were more than just fun diversions — they fuelled a life of crime that SupaMan now vehemently bemoans:
"It was just nonsense," he told NPR in 2011. "We would play the part, you know. We were wannabees, trying to be, like, these rappers on the rez. So we started doing the crime, robbing, went into houses and trade the merchandise and then get weed from the merchandise, and then started selling."
He adds: "The way hip-hop influenced me in my earlier years is in a negative way. I mean, I hate to say that, but it's true."
Upload your music for free at ReverbNation.com
When he started gaining recognition for his music, SupaMan embarked on a series of nationwide tours that would change his life. A moment of infidelity — he was married and had a daughter at the time — sparked a guilt-ridden downward spiral that was only alleviated when he embraced his religious side. He left his Seattle-based label and returned to the reservation, armed with a new purpose: to positively impact his community.
He hasn't looked back since.
"I talk to a lot of kids — go to schools and everything — and I tell them, 'Man, you don't know who you are. You don't know what you have. You can go to Europe, Japan and these people love you cuz you're Native American. So you should value that,'" he says. "'You should value that and know who you are!'"
His pride is deeply woven into his musical persona, which fuses gritty '90s East Coast rap influences with the legacy and traditions of the Great Plains. The results waver between hard-edged lyricism and wholly original fusions that feel organic and time-honored without sacrificing their exuberant, mashed-up modernity.
Fingers crossed that the MTV win earns him and his musical contemporaries further accolades and recognition.