Here's How Many Of the World's Top Billionaires Are LGBT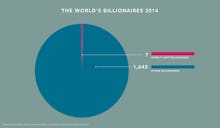 In Forbes' latest tally of the world's billionaires, only 7 — or 0.4% — of the total 1,645 openly identify as part of the LGBT community. To be exact, 6 of those 7 are gay men. When Jennifer Pritzker, heiress to the Hyatt Hotel fortune, announced that she will conduct all business under her new name in August 2013, she also became the first transwoman billionaire, according to Forbes.
Three of these gay men — Domenico Dolce, Stefano Gabbana, Michael Kors — are fashion moguls, while David Geffen (Hollywood business magnate), Peter Thiel (founder of PayPal, and, as Queerty noted, conservative politician funder) and Jon Stryker (heir to a medical equipment company) round out the list.
All of these men are white. In fact, all seven LGBT billionaires are white.
None are openly lesbian or bisexual.
Image Credit: PolicyMic
On one hand, the LGBT billionaire club's overwhelming maleness reflects a larger societal trend. Gender discrimination is a problem among straight billionaires as well. But this newest list puts an exclamation point on a different stereotype: that of the fabulous, wealthy gay "DINK."
DINK — a slang term meaning "double income no kids" — applies to both gay and straight couples, but is often used in the context of the LGBT demographic. Think of it as the Will & Grace stereotype, which marketers have touted and the gay elite — like former supercouple Dolce and Gabbana — (perhaps inadvertently) perpetuate.
Image Credit: AP
The myth of LGBT affluence has been documented most recently by the Atlantic. But in addition to higher poverty rates than their straight counterparts, the LGBT community still faces widespread systemic and economic disadvantages, such as workplace discrimination. It is still legal to fire someone because of his or her sexual orientation in 29 states, while 33 states can still fire an employee because of his gender identity. Forty percent of homeless youth identify as LGBT, "putting them at a great economic disadvantage as they grow older."
These hardships are only magnified if your identity is at all intersectional, particularly in terms of race (with its strong correlation to class). As Joseph N. DeFilippis writes in "A New Queer Agenda, "People in same-sex couples who live in rural areas have poverty rates that are twice as high as those for same-sex couples who live in large metropolitan areas, as well as being poorer than people in different-sex married couples who live in rural areas."
Socioeconomic inequality is even worse for LGBT people of color, DeFilippis notes, to say nothing of trasngender people who face even higher rates of unemployment and are more likely to live in poverty.
That these seven billionaires are largely white and gay men addresses a secondary issue: The "pink dollar" — or the spending power of the LGBT community — is largely owned by gay white men. This is key because money grants power, and with power comes activism. 
The current gay agenda is centered on the concerns of white, middle-class gay men. To quote DeFilippis once again, it's dictated "by the kind of people for whom the inability to get married is the only real form of discrimination they face on a daily basis."
The two mainstay issues of the gay agenda over the last 20-odd years — DOMA and DADT— both involved fighting for inclusion in traditional institutions. One has to wonder what the gay agenda will become with both DOMA and DADT overturned, and universal marriage a slow but steady march toward an increasingly inevitable conclusion.
If Forbes' billionaire list is any indication, one has to wonder if the agenda won't remain focused on the concerns of this smallest statistical subset of the LGBT community.