This Unique Invention Will Allow Disabled Children to Walk For the First Time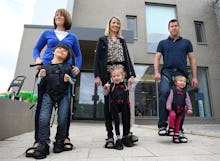 No parent ever wants to get the news that their child will have to spend their life in a wheelchair. But this is exactly what Debby Elnatan, a mother of two, was told about her 5-year-old son when he was born with cerebral palsy. Devastated, she decided to take action by crafting a device that could allow him to play like other kids. Little did she know that it would one day allow him to take his first steps.
Behold the Firefly Upsee: a revolutionary harness that could become a game-changer for the 150 million children living with physical disabilities across the world. The device allow infants and small children with special needs to use the support of an adult to stand and walk. It doesn't just give the user the feeling that they are walking, it could also helps them develop that skill on their own too. 
Image Credit: William Cherry, Press Eye
Clare Canale, the company's clinical research manager and occupational therapist, believes this invention could have a huge impact both on children's quality of life and their successful integration into society. "Short-term, the Upsee improves special needs family participation and quality of life, while research suggests it has the potential to help the with physical and emotional development in the longer term," she stated in a press release.
Image Credit: William Cherry, Press Eye
One of the most revolutionary advancements of the Upsee is that children with motor impairments can now use this standing and walking harness to play with other children. Take Jack, a 5-year-old boy from Draperstown in Northern Ireland who suffers from cerebral palsy. In the video below, he is kicking a ball back to his brother, which his mother, Maura McCrystal thought she would never see. "Last Sunday was a significant one for us as a family as it was the first time our son Jack was able to play football in the back garden with his dad, his brothers and our little dog Milly. To see Jack playing like any other 5 year old boy made me very emotional," she said in a statement. 
The McCrystals are one of many families that tried out the invention before its official launch. The harness has already been used by children across the U.K., Canada and here in the U.S. The company is expecting it to get global demand because it's like no other product on the market. It will go for about 299 pounds a pop, equivalent to about $500 and it's now available for purchase right off their website.
Image Credit: William Cherry, Press Eye
According to the United Nations, "Children with disabilities experience discrimination and social exclusion in every aspect of their lives." Because research shows that inclusive environments can help reduce the feeling of isolation and increase mental health outcomes, devices that help children participate in inclusive environments are essential.
Although the Upsee is profoundly groundbreaking, many families will struggle to afford it. Since exclusion and isolation for children with special needs is worse for those who live in poverty, access will be an significant issue. So far, Elnatan told PolicyMic she has been flooded with inquiries about the new product. More than 3,500 people have reached out to her for information. Let's just hope that governments and hospitals will show interest in the harness too. That way, the freedom to walk and play won't be reserved for a few privileged children; it will be for all.
For more on class, gender and disability, follow Liz Plank on Twitter and Facebook.