This Is the Funniest 2-Minute Fake Commercial You'll See Today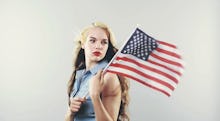 The news: The amount of advertising we consume each day is, quite frankly, too damn high. 
From magazines and billboards to TV and the Internet, everywhere we turn there's a fervent effort to sell us something, anything — sometimes subtly, sometimes very aggressively. Because of this, we naturally develop a familiarity with adverisers' tropes and manipulative methods, and that's why they're so easy to parody.
Smart advertisers know this, of course, and increasingly tailor their work to be more self-aware and — in some cases — even self-effacing. Which raises the question: Can we ever escape their grasp? Will we ever be free of their inordinate ubiquity and relentless manipulation?
Probably not. But the good people at Dissolve — a stock photo provider — are making a concerted effort to remind us exactly what we're dealing with. Using a biting poem by Kendra Eash titled "This Is a Generic Brand Video" — originally published at McSweeney's — they've compiled a spot-on commercial parody that rings disturbingly true for anyone who's ever sat in front of the TV and said, "I feel like I've seen this ad a million times."
Enjoy:
Nice. These images are all stock footage from actual commercials. The poem's final stanzas ring especially true, considering some advertisers' sudden decision to give a shit about diversity:
"Using a specific rationof Asian people to Black people to Women to White menWe want to make sure we represent your needs and interestsOr at least a version of your skin colorIn our ads.Did we put a baby in here?What about an ethnic old man whose wrinkled smile representsthe happiness and wisdom of the poor?Yep."
Interestingly, it might seem that the rapid ascent of the Internet would significantly restructure the advertising landscape. Will commercials have to fundamentally change once traditional TV becomes obsolete? Turns out, not really: Mashable reports that while online ad spending stands to increase in the coming years, so does TV.
Image Credit: Mashable
In case you missed that, a projected $75.25 billion – with a 'b' – will be spent on television advertising by 2017, compared with $60.4 billion on digital.
There's one thing you can definitely count on over the next few years, and possibly until the end of time: ads, ads and more ads.
God help us.