10 Beautiful Book Dioramas Putting Your Fourth Grade Project to Shame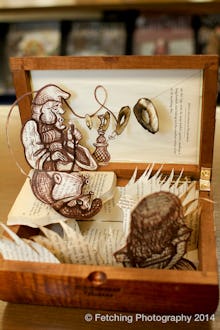 Remember when you were in middle school and you made that sweet shoebox diorama of The Mixed-Up Files of Mrs. Basil E. Frankweiler or To Kill a Mockingbird? Imagine making that project as an adult, with the benefits of fine motor skills and life experience. Well, that project dream has been put into practice. The results are charming, and we have a library and its creative community to thank.
Rochambeau Library in Providence, R.I. hosted the first "Dear Diorama" competition this month, an outreach contest in which adults submitted dioramas of their favorite books. PolicyMic spoke with Matthew Lawrence, an organizer of the event who describes the library as, "an independent non-profit, unlike city-run libraries in most of the country, so on a very basic level we rely pretty heavily on community support." 
"We are really blessed to live in a community like Providence where people really come together to make art," said Ed Graves, regional librarian. "Providence is a great city, but I bet there are libraries in every city that are goldmines, spaces of untapped creative possibility." 
Let's hope so. Scroll on for some enchanting entries.
1. "A Tree Grows In Brooklyn" by Betty Smith
"Look at everything always as though you were seeing it either for the first or last time: Thus is your time on earth filled with glory." - Betty Smith, A Tree Grows in Brooklyn
Most of us fall in love with New York through the movies, books, music and other cultural touchstones that make it real for us. This beautiful diorama of A Tree Grows in Brooklyn feels both loved and lovely. Check out the details of all those people in their windows.
2. "The Great Gatsby" by F. Scott Fitzgerald
"I was within and without. Simultaneously enchanted and repelled by the inexhaustible variety of life." - F. Scott Fitzgerald, The Great Gatsby
The diorama for The Great Gatsby looks like a punky, precious collage you might have made as a teenager. With the florals, the magazine cutouts and handwritten notes, it feels both familiar and fresh.
3. "Dune" by Frank Herbert
"Deep in the human unconscious is a pervasive need for a logical universe that makes sense. But the real universe is always one step beyond logic." - Frank Herbert, Dune
Thank goodness for enthusiastic science fiction readers. Dune — that cult classic, politically charged, sci-fi masterwork — was bound to make an appearance in the competition. Showing a Fremen rider guiding a sandworm across Arakkis' desert with a portion of the Litany Against Fear overhead, this diorama is perfection.
4. "The Tin Drum" by Günter Grass
"Granted: I AM an inmate of a mental hospital; my keeper is watching me, he never lets me out of his sight; there's a peep-hole in the door, and my keeper's eye is the shade of brown that can never see through a blue-eyed type like me." - Günter Grass, The Tin Drum
Full of quirky narrators and that fairytale lyricism so prevalent in eastern European culture, The Tin Drum is a captivating story. This beautiful diorama by Jill Colinan has detail, texture and imagination galore — just like the book. This diorama won the People's Choice Award of the competition.
5. "Water for Elephants" by Sara Gruen
"Age is a terrible thief. Just when you're getting the hang of life, it knocks your legs out from under you and stoops your back. It makes you ache and muddies your head and silently spreads cancer throughout your spouse." - Sara Gruen, Water for Elephants
This detailed diorama is just packed full of detail and, as Graves said, "whimsy." The story follows members of a circus troupe, touching on themes of love, age, intimacy, trust and secrecy. As viewers, it's lovely to see such meticulousness. It almost looks like a scene from one of those I Spy books we loved as children.
6. "Alice in Wonderland" by Lewis Carroll
"'But I don't want to go among mad people,' Alice remarked. 'Oh, you can't help that,' said the Cat: 'we're all mad here. I'm mad. You're mad.' 'How do you know I'm mad?' said Alice. 'You must be,' said the Cat, or you wouldn't have come here.'" - Lewis Carroll, Alice in Wonderland
Alice in Wonderland is one of those marvelous books that reminds us why we first loved reading. Marketed at children but written to engage an older audience, it's a joy to rediscover in adulthood. This diorama is one of the more technically developed and depicts Absolem talking with Alice.
7. "The Help" by Kathryn Stockett
"I always order the banned books from a black market dealer in California, figuring if the State of Mississippi banned them, they must be good." - Kathryn Stockett, The Help
The Help garnered huge critical praise, both as a book and movie. One of the few recent novels to be represented in the "Dear Diorama" competition, this entry steered clear of images of the main characters. Instead, it relied on an understanding of the plot to be recognized — a clever abstraction for a story this popular. 
8. "Watership Down" by Richard Adams
"Many human beings say that they enjoy the winter, but what they really enjoy is feeling proof against it." - Richard Adams, Watership Down
"In terms of technical wizardry, I have to say Morgan's execution of Watership Down was flawless with the use of the ukelele to construct a subterranean tableau," Graves said of this diorama. We have to agree.
9. "The Crying of Lot 49" by Thomas Pynchon
"But with a sigh he had released her hand, while she was so lost in the fantasy that she hadn't felt it go away, as if he'd known the best moment to let go." - Thomas Pynchon, The Crying of Lot 49
Housed in a hat box and showing that trumpet, this diorama showcases some of the more recognizable symbols of the endlessly detailed modern classic, The Crying of Lot 49.
10. "We Have Always Lived In the Castle" by Shirley Jackson
"I remember that I stood on the library steps holding my books and looking for a minute at the soft hinted green in the branches against the sky and wishing, as I always did, that I could walk home across the sky instead of through the village." - Shirley Jackson, We Have Always Lived in the Castle
"Deb Dormody's take on Shirley Jackson's We Have Always Lived in the Castle was really stunning, and I overheard two people who didn't even know each other talking about how they'd have to check out the book now," said Lawrence.
This short story is one of Shirley Jackson's strangest and most compelling — and she wrote exclusively strange, compelling and macabre stories. For the competition, it was faithfully reinterpreted in a diorama that maintained the tone of the story and the emphasis on internal narratives.