9 Stunning Portraits Show How Famous Rappers Would Look as 17th Century Aristocrats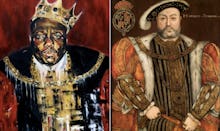 British artist Amar Stewart is making a splash with his striking portraits of rappers and hip-hop artists painted to look like 17th century elite. Stewart found inspiration by looking at 17th century Dutch painter Frans Hals and other master painters at the Metropolitan Museum of Art.
"I always wanted to come at it from another side," he told PolicyMic of his work. "It's hard to do anything new and totally refreshing, but I feel that there are ways in terms of style and technique that you can do that."
Stewart's story speaks to cross-cultural nature of our generation, the first that came of age in a truly connected society. He grew up in London, and as a kid would stay up late to watch VH1 and dream about New York. 
For a project that's so much fun to look at, Stewart's process was very rigorous, painting eight hours a day for a month straight during his recently completed residency at Cotton Candy Machine in Brooklyn. Stewart is a completely self-taught artist and his paintings are gaining attention. Many show a striking resemblance to their original inspiration. For others, he drew upon a particular painting and then took artistic liberties to make it his own.
We matched up Stewart's portraits with the paintings they're modeled on. Check out the pairings, and the subversive way Stewart's work takes a historical looks at hip-hop royalty. 
1. Tupac as "Portrait of a Man Holding a Skull" by Frans Hals
Tupac Shakur was the first rapper Stewart painted for this series. As he explains, "It really set the tone for the hip-hop royalty collection. I knew that Biggie and Pac were going to be the centerpieces as they both had such big personalities, so after researching Frans' work, this stood out the most to me."
2. Biggie as "King Henry VIII" by Hans Holbein the Younger
This portrait of Biggie Smalls is one of the few not modeled on a Frans Hals painting, but King Henry VIII just seemed right for the rapper who called himself the King of New York. In fact, one of the last photographs of Biggie taken before his death shows him wearing a crown against a red background.
3. Jay Z with as "Young Man Holding a Skull" by Frans Hals
Stewart modeled his portrait of Jay Z on "Young Man Holding a Skull (Vanitas)" by Hals.
"That to me stands out the most because it's not mocking him. It's the opposite. It's about how much of a trendsetter he is in everything he does," Stewart told PolicyMic. "So the feather hat for me, and him with the skull, represents no fear. He knows that he can get away with it."
4. Mary J. Blige as "Portrait of a Woman" by Frans Hals
With nine Grammy Awards and a record of 30 nominations, Mary J. Blige is one of the most talented and influential women in music.
"For the queen of R&B it only seemed fitting to find a queen-like portrait," Stewart said. "With oversized ruffles and intricate pattern work I wanted to find a painting from Hals that could represent Mary J. in the grandest of light." 
5. Rick Ross as "Portrait of a Man" by Frans Hals
The first artist signed to Diddy's management company Ciroc Entertainment, Rick Ross is a force to reckon with. He's portrayed here "like a proud soldier returning from battle with his oversized shades, patterned chest piece and white gloves."
6. Nas as "Portrait of a Man, Half-Length, in a Black Coat" by Frans Hals
"Nas is a standout for me," Stewart declares. "In my early years I would only paint with a black and white pallet and I would always listen to Nas. It felt good to go back to my roots and try to fuse it with traditional techniques and mediums." 
7. Action Bronson as "The Laughing Cavalier" by Frans Hals
Action Bronson, signed to VICE Records and Atlantic Records, hails from Flushing, Queens. "Action is such a character. The original painting "The Laughing Cavalier' was a perfect match, more so for the title," Stewart says. "Action always seems to be in high spirits so it only seemed fitting to go with this."
8. Lisa 'Left Eye' Lopes as "Napoleon Crossing the Alps" by Jacques-Louis David
Considering Left Eye's egotism and desire to prove herself as the leading member of TLC, it's not surprising to see her portrayed as Napoleon. The original equestrian portrait was commissioned by King Charles IV of Spain to commemorate Napoleon's victory over Italy and his appointment as First Consul of France.
9. Eminem as "Portrait of a Man with Hat" by Frans Hals
Stewart chose to show Eminem wearing a hat and posed ready for battle. "He's so aggressive in his performances and the way he acts. You don't really see him in the spotlight as much as everyone else, so he does have that sort of uncomfortable look about him, you know especially with his big covered-up hat that he's wearing," he told Bedford + Bowery.