The Washington Redskins' Latest PR Stunt Is an Insult to Native Americans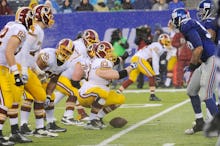 The Washington Redskins are at it again.
Team owner Daniel Snyder announced Monday that after four months spent "[travelling] to 26 Tribal reservations" and learning about their "views, attitudes, and experiences," he would start a philanthropic project to aid American Indian communities.
"The more I heard, the more I've learned, and the more I saw," he wrote in a letter, "the more resolved I became about helping to address the challenges that plague the Native American community."
He added: "It's not enough to celebrate the values and heritage of Native Americans. We must do more."
Facepalm. While it's heartwarming that Snyder has finally decided to help indigenous people after 10 years owning the $1.7 billion franchise, the move completely ignores "the elephant in the room," to quote Indian Country Today: "The widespread objection ... to the team's name."
Image Credit: UPI
To many, "Redskins" is a racial slur, and nationwide pressure to change it has reached a fever pitch of late.
"At the very least," wrote Oneida Indian Reservation representative Ray Halbritter, "we're also hopeful that in his new initiative to honor Native Americans' struggle, Mr. Snyder makes sure people do not forget that he and his predecessor George Preston Marshall, a famous segregationist, have made our people's lives so much more difficult by using a racial slur as the Washington team's name."
But does the name really hurt American Indians? According to activist Suzan Shown Harjo, absolutely. In response to Snyder's initiative and its expressed interest in the poverty, high suicide rates, addiction and healthcare problems plaguing American Indian reservations, she had this to say:
"Is he really going to put up $50 million of his own money for a suicide prevention program? Does he understand that part of teenage suicides, which are the worst in the country, part of that comes from low self-esteem and part of that comes from negative imaging, of which his franchise is one of the worst offenders? So he can cry about high rates of suicides but he doesn't begin to understand how he's contributing to that and that this is a real matter of life and death."
She added: "What an insult. The whole thing. This is a stunt. To me, it's a stunt. But we'll see. Supposedly it's a change of heart, but it's not a change of mind. And it's not a change of name."
Image Credit: Colorlines
Rep. Betty McCollum (D-Minn.) agrees: "For almost eighty years the National Football League and its Washington franchise have exploited a racist Indian caricature, turning it into a billion dollar brand while completely ignoring the needs of real Native American children, families, and elders," she wrote in an email to Think Progress. "Now, team owner Dan Snyder wants to keep profiting from his team's racist brand and use those profits to attempt to buy the silence of Native Americans with a foundation that is equal parts public relations scheme and tax deduction."
So, clearly, there's plenty of skepticism around Snyder's motivations. He claims the philanthropic project — ironically titled the "Washington Redskins Original Americans Foundation" — has already distributed 3,000 "cold weather coats to several tribes" to combat the winter chill, as well as basketball shoes and a new backhoe for a tribe in Nebraska.
But to many, that's poor compensation for an exploitative team name that causes more damage than he's willing to admit. Is this merely a PR move to placate the Redskins' critics, or a helpful step in the right direction? Most likely, it's a bit of both.
Perhaps most intriguing is how little impact the backlash is having. A January poll found that 71% of Americans have no problem with the Washington Redskins' name. Only 18% said it should be changed.
The lesson being, this is #Amurica, and football is more important than your feelings or your people.