17 Charming French Spots Prove the Best of France Is Outside of Paris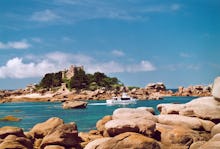 You secretly think the Eiffel Tower isn't a big deal. You've been to the Louvre 17 times and could draw the Mona Lisa with your eyes closed. You feel like you might be a couple of passive-aggressive waiters away from snapping.
But despite all that, you kind of like France and would like to go again, maybe even soon, and you cry yourself to sleep every night while the thought of spending one more night in this wretched city crushes your poor soul. Worry no more, friend: Here are 17 French places that you can go to instead of Paris.
1. Bordeaux
We know what you came for, so let's get straight down to it. Bordeaux's wine is legendary, both due to its quality and to the fact that its production dates back to the 8th century. The city also hosts Vinexpo, the largest wine fair in the world. But that isn't all. Nicknamed the Pearl of Aquitaine, Bordeaux is full of gorgeous sights, including the Port de la Lune, which was recently designated a UNESCO World Heritage Site, and the Rue Sainte-Catherine, a paved and narrow shopping street that cuts through the old city center.
2. Hossegor
To the west of Bordeaux, the small beach town of Hossegor is a surfer's paradise. The waves are known as some of the best in the country, and Hossegor regularly hosts some of the biggest surfing competitions in Europe. The city is surrounded by a multitude of charming camping sites, as well as several cycling lanes where you can explore the area or simply bike around in the forest.  
3. Bretagne
If curly haired-surfers with eight-packs and shark teeth necklaces aren't really your thing, you might want to check out Brittany, locally known as Bretagne. Its rough seas and fast-changing weather may not be the most inviting at first, but the region has plenty to offer. You can try your hand at sailing at one of the many schools around and there's nothing better after a day at sea than a glass of homemade cider and a delicious crêpe bretonne. The seafood is equally exceptional and you might get lucky enough to catch a local fisherman's festival and get rowdy with the locals.
4. Marseille
France's second-largest city was founded more than 2,600 years ago, and is pulsing with history. Its beautiful sights and Mediterranean atmosphere make it hard not to fall in love. Take a walk around the Fort Saint-Jean, have a bite at a local restaurant or go experience the passion of a soccer game. (While you're at it, you might want to call it football when you're there.)
5. Auvergne
You've had enough of big cities and want to escape in nature? We've got you covered. The Auvergne region is the perfect destination for some peaceful trekking, with its curvy landscapes and majestic volcanoes making for a truly fascinating spectacle. The region also produces a variety of local delicacies, including honey and gooey, gooey cheese. Yum!
6. Chateaux de la Loire
Or maybe your thing is awesome castles, but you're secretly ashamed of going to Versailles for the third time. Don't worry, there's plenty more where that came from! It's not like the French kings were only going to have the one holiday castle. Nope, the crazy bastards built dozens. And kind of grouped them together, so they're easier to visit.
7. Foix
The problem with all those fancy castles is that they weren't very good at doing what castles do, which is defending people from stuff. The more practically-oriented of you might then prefer the medieval awesomeness of Foix. Towering over a charming little town, this impressive fortress has been standing for more than 1,000 years, and I wouldn't be surprised if during your visit you run into Daenerys and her dragons trying to take back the Iron Throne.
8. Lyon
Another big French city well worth visiting. Friendly people, a relaxed atmosphere, plenty of historical sights and a vibrant cultural scene, Lyon pretty much has it all.
9. Côte d'Azur
The eastern part of the French Mediterranean coast might be the ideal spot for a sunny vacation. Stay in the charming city of Nice, or explore the coast's numerous camping sites and small beach towns. If you feel like a change of language for a day, a short and cheap train ride will even take you through Monaco to the north of Italy.
10. Alpe d'Huez
You haven't really been skiing in Europe until you've been to the Alps. One of the largest mountainous areas in the world, the Alps are known for their endless slopes and perpetual snow. The Alpe d'Huez station hosts the Sarenne, which is 16 kilometers long, the longest black slope in the world. It is also full of bars and restaurants to keep you entertained at night and in summer becomes an excellent trekking destination.
11. Alsace
Still think you'd rather visit Germany? Alsace might just be the perfect compromise. Sitting on the German border, the region claims its influences from both the French and Germanic cultures. It might even be the best of both worlds. On the one hand are the sauerkraut, giant mugs of beer and ridiculously cute houses. On the other, the world-famous Route du Vin, which will take you on a wine-tasting tour around several historical villages and will allow you to make your own Sideways movie.
12. Toulouse
Nicknamed the Pink City after its rose brick walls, Toulouse is also famous for its cultivation of violet flowers. But it is also a young and vibrant city, with plenty of bars and cool bridges that light up at night. Toulouse was voted France's most dynamic city in 2009 by the magazine L'Express.
13. Lille
Lille is only a couple of hours north of Paris, which makes it the ideal spot for a quick and discreet escape. Its stone-paved streets, good beers and crappy weather mean Lille is a resolutely northern city, but also a charming one, with a rather animated nightlife to boot.   
14. Provence
If you happen to be in Marseille and are getting tired of the beach (what's with all this salt and sand, am I right?), you should take time to visit the region of Provence. It is above all renowned for its lavender fields, giving its landscapes a purple tint that has been a source of inspiration for many generations of painters.
15. Corsica
If you ever get tired of feeling like a tourist, Corsica might be a refreshing break. Actually, you'll probably be considered even more of a tourist there, but so will all the other French people! Corsicans can actually be very welcoming and are rightfully proud of their beautiful island. Plus you can get there by ferry, which is pretty awesome.
16. Montpellier
Sitting near the Spanish border, Montpellier was founded in the Middle Ages and its historical center is still mostly intact today. Around it, however, have sprouted many modern and eccentric constructions, giving the city a unique hybrid look that will certainly delight fans of architecture.
17. Vitry-sur-Seine
Here concludes our Tour de France... almost! If you end up going to Paris anyway, because you're actually starting to forget the shape of Mona Lisa's left eyebrow, or because the friend you're going with has never been and really wants to wait five hours in line to go to the top of the Eiffel Tower, here's a bonus pick for you. The city of Vitry, in the southern Parisian suburbs, has become a hot spot for hundreds of graffiti and street artists and has been given a spray-painted makeover. If street art is your thing but you never had the chance to check out 5 Pointz before it closed, Vitry might just do the trick.