This Could Be the Lesbian Dating App Women Have Been Waiting For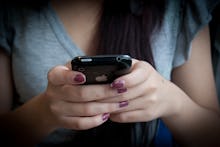 Grindr, Scruff, Mister: These are just a smattering of popular examples of "meet-up" (or rather, "hook-up") apps for gay men. The most successful of these, Grindr, has more than 5 million monthly users whose daily chat messages top 38 million. The app just celebrated its fifth birthday earlier in the week. 
But where are the dating apps for lesbians? 
Image Credit: Flickr
To be honest, there aren't many. As of last week, the only two lesbian dating services in the iTunes app store were the seemingly 90210-inspired Brenda, the lesbian equivalent of Grindr, and the equally uninspired Wing Ma'am, which is directed more at queer women and the trans community. 
This week a U.K.-based company released another dating app into the U.S. market. Dattch — why are we so uncreative with names, lesbians? — is modeled on Pinterest in an effort to cater more effectively to the needs and dating rituals of the more sapphically inclined. As Dattch CEO and founder Robyn Exton told the Guardian, "We've found that girls often need a helping hand to get talking ... Guys [on Grindr] will see a picture, send a girl a message and see what happens. Whereas girls will look at a picture two or three times before deciding to send a message." Exton explained that she sees her app as the anti-Grindr for lesbians.
Image Credit: iTunes
On Dattch, lesbians connect to the app through Facebook and then create their own "personality mood board," which is intended to convey with much more visual accuracy the type of person attached to the profile, rather than a simple (and sometimes deceiving) selfie. This method is representative of the company's primary mission of maintaining the security and comfort of its users, in order to ensure that actual lesbians, rather than men posing as lesbians, use the service.
But will it work? The relative unpopularity of previous lesbian dating apps points to a potentially uphill battle for Dattch, but we're willing to try anything once, I suppose. At the very least, the app's commitment to screening out voyeurstic men is admirable, as anyone who's ever had to deal with OkCupid's creepy threesome-seekers can attest.