This Woman's Story Shows How Bad the Vicious Cycle of Homelessness Is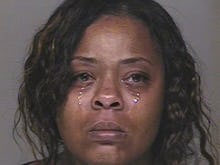 Shanesha Taylor is a homeless, single mother of two children, ages 6 months and 2 years. She left them in the car while she went into a job interview. Scottsdale, Ariz., police discovered the children in the car, and Taylor explained to them that she did not have childcare to look after them.
The police report of the incident read, "Police strongly caution that leaving a child in a car unattended can result in severe injury or death to the child. As well, our department will seek felony prosecution for any such criminal behavior."
She did not get the job that day; she got charged with two felonies for child abuse. Her children are with Child Protective Service and Taylor remains in jail. Her hearing is Thursday, March 27. 
Taylor was likely desperate for that job and didn't think she had another option. Homelessness is a vicious cycle: An individual can become homeless for various reasons — abuse at home, illness, job loss, etc. — and then will have a difficult time gaining employment because he or she does not have access to the necessary resources to do so. In Taylor's case, that resource was childcare. 
On that day, Taylor was one of roughly 27,000 homeless persons in Arizona. In the U.S., on a single night in January 2013, 610,042 people were homeless.  
Image Credit: Affordable Housing Institute
A recent study conducted by UNC Charlotte's Department of Social Work actually found that it is significantly cheaper for taxpayers to house the homeless than to leave them on the streets. The apartment complex in their study saved nearly $2 million in its first year by drastically reducing the amount of time tenants spent in emergency rooms and hospitals.  There was also a 78% drop in arrests and 84% fewer days spent in jail — days that people like Taylor needlessly serve. Because of the undeniable success, the housing complex is expanding from 85 to 120 units. 
Other states would be wise to take these results into consideration, though many already have efforts to help homeless persons. In Arizona, where Taylor is, the Arizona Coalition to End Homelessness offers support services such as transportation, case management, child care, employment or education assistance, job training, parenting classes, substance use treatment, counseling, health care, financial literacy training or legal advocacy.
Nearly 500 people have raised over $12,500 for Taylor's bail and for her children. They recognize something that is abundantly clear: Taylor needs support, not prison.