One Woman's Mastectomy Becomes Her Inspiration to Create the Perfect Nipple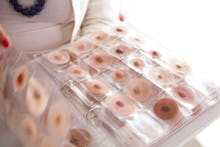 In July 2010, Michelle Kolath Arbel was a young mother who had just completed her studies at New York University. When she and her husband decided to have a second child, Arbel found a malignant lump in her breast that would change her life forever.
Her breast cancer diagnosis not only led her to become a survivor; it also inspired her to become a first-time business owner. Arbel wanted to make breast cancer survivors feel whole again by creating the perfect nipple.
Arbel's personal journey surviving breast cancer
After seven grueling months and 16 cancer treatments, Arbel needed a one-sided mastectomy. One of her breasts would be removed, including her nipple. "I was devastated, even more devastated than when I found out that I had cancer. This was permanent. I would keep on looking at it for the rest of my life," she told PolicyMic.
Image Credit: Pink Perfect
After her mastectomy, she had her breast reconstructed with an implant and then needed to wait half a year before the nipple could also be reconstructed. In nipple reconstruction surgery, surgeons insert a hard bump to resemble the nipple and tattoo the areola, the area around the nipple, in a color tone of the patient's choice. Arbel saw the results from friends of hers that had gotten this enhancement and wasn't satisfied.
"I went to the shower, I closed the lights. I didn't want to look at myself, tried to avoid myself in the mirror," she told PolicyMic. "After two, three months, I was looking for a solution. … I couldn't handle myself. I couldn't deal with it for another day."
She then ordered adhesive nipples from China that she could stick on. But they were rough to the touch and didn't look very real. 
Arbel had a feeling that if it bothered her so much to look in the mirror at that stark mark on her breast, it must bother other survivors. She wanted to make something better. 
Fearless enough to become an entrepreneur
Arbel always wanted to start her own business. When she studied marketing in New York, she had tried to start her own company several times. The first time she went for it, she was too afraid to take the risk. The second time, someone else beat her to launching the exact same idea.
But after surviving cancer, Arbel was no longer afraid. "After cancer, I felt fearless in every way," she said. "I just felt whatever will happen, will happen. Before cancer hit me, I was afraid in a way. But after cancer, I was afraid of dying, that the treatment wouldn't work. Fear had a different point of view. I just felt, whatever, I'm gonna try it. When you're fearless and add to that and I believed in my product, that what I had made for myself made me feel better. If I felt like that, a lot of girls will probably feel like that." 
After one year of studying prosthetics, Arbel made her first nipple out of silicone — a similar material found in most post-mastectomy implants — for herself. If she was a happy customer, she figured she could make others happy as well. In 2012 she started Pink Perfect, which makes readymade custom prosthetic nipples for breast cancer survivors.
Unlike other prosthetic nipples companies, Pink Perfect makes personalized nipple molds. Similar businesses such as ReForma and Softcare Silicone UK offer adhesive nipple stick-ons that are considerably cheaper, with pairs starting at $40. But they don't offer the option to get a personalized mold of your existing nipple.
In 2013 Arbel was named Israeli Entrepreneur of the Year by the philanthropic organization Keren Shemesh Foundation. CEO Michal Even-Chen told PolicyMic, "Michelle was awarded first prize for managing to combine her ambition for economic and business independence with her own personal struggle."
So far, Pink Perfect has filled more than 200 orders, mostly within Israel. The prosthetic nipples last for several years and can endure regular showering and exercise such as swimming.
If Arbel had allowed her hardship to keep her down, she would have never been able to go on and help so many others in the same position. The last thing breast cancer survivors need is more fear. Arbel has helped survivors regain what they worry they lost: themselves. 
Watch how Arbel makes the prosthetic nipples here: