10 Female Tattoo Artists Proving Ink Is Way More Than a Man's Game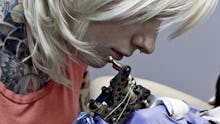 In 1907, a circus tightrope walker named Maud Stevens met "Tattooed Globetrotter" Gus Wagner at the St. Louis World's Fair. Wagner wanted a date, and Stevens wanted tattoo lessons. Things worked out well: The two married, and Maud Stevens Wagner became the first known female tattoo artist in America.
Image Credit: Wikimedia Commons
A hundred years later, the most famous tattoo artist in the world is Kat Von D. Actresses from Lena Dunham to Helen Mirren (yes, that Helen Mirren) sport ink. And, for the first time in American history, there are more tattooed women than men.
So why, for so many, do the words "tattoo artist" still conjure a vision of someone grizzled, gruff and male?
While evidence of tattoos dates back at least 5,200 years to the "Iceman" mummy, the roots of America's tradition lie largely with sailors, bikers and gang members. The ratio of male-to-female artists remains lopsided, but the tattoo industry is actually quite progressive; the popularity of women-centric TV shows like LA Ink and heavily-tattooed celebs like Rihanna have helped make tattoos more markedly "feminine," and more and more women are entering the fold. 
Nevertheless, female tattoo artists can still face things like commentary focused more on their appearance than their work, and having to adapt to some shops' "pack mentality, where guys hang with guys."
PolicyMic spoke to the best artists across the country about what it's like to still be making history as a woman tattoo artist in 2014.  
1. Lisa Orth, Seattle, Wash.
Owner: Alleged Tattoo
"I'm surprised at how tough people are. I'm a total wuss when I get tattooed, and I get these super badass clients who get big tattoos in painful spots and just sit there like champs, no breaks, no complaints, nothing but awesomeness. I wish I could be more like that!"
2. Francella Salgado, El Paso, Texas
Owner: Dreadful Things
"One beautiful part of my career has been the fact that people are shocked to find out that the work done on my clients is done by a woman. Stereotypes in the industry and more humorous to me than anything. For example, when my husband and I are out people have a tendency to comment on my tattoos (being that I am heavily tattooed) and always assume that my husband is my tattoo artist (which of course is the other way around)."
Image Credit: Ernie Bustamante, Inked Photography
3. Melanie Nead, Portland, Ore.
Owner: Icon Tattoo Studio
"Probably the most satisfying part of my job is the transformative effect tattoos can have for people, especially women — it can cause them to love a part of their body that they've never liked, or have felt self-conscious about. It's so amazing to see a lady looking at her belly in the mirror and saying, 'I love my belly!' You don't see that enough in the world at large. Getting tattooed can be an incredibly empowering experience. It's unbelievable to get to be a part of that."
4. Elize Nazelie, Boston, Mass.
Owner: Brilliance Tattoo
"This tattoo is a personal favorite of mine. The client is a strong woman and a feminist, and she let me take the classic story of 'Little Red Riding Hood' and put an empowering spin on it. Fairy tales are cautionary tales, and everyone knows the story is made to warn young women about the dangers awaiting them in the world. My client wanted something that showed women's ability to protect and stand up for themselves."
5. Tanya Wischerath, San Fracisco, Calif.
Tattoos at: Modern Electric Studio
"One of the advantages I've observed in being a lady tattooist is that my clients seem to feel more at ease more quickly, especially women. Most tattooed women have at least one story about feeling ignored, dismissed, disrespected, etc. at a tattoo shop. I was taught by my mentor, and believe absolutely, that the experience you have with your tattooist is of comparable importance to the outcome of the tattoo itself."
6. Stephanie Tamez, Brooklyn, NY
Co-owner: Saved Tattoo
"I would say the disadvantage [of being a female artist] is that as a woman I have to work twice as hard to prove myself in a largely male-dominated field, and the advantages are that by working harder I have become a better tattoo artist."
7. Mimi Wunsch, Minneapolis, Minn.
Tattoos at: Sea Wolf Tattoo Company
"I think there's a lot of media interest in female tattooers right now and it's a double-edged sword. While I'm flattered and appreciate interest in my work because of my gender, I'd also like to have my work assessed based on the quality of the work, regardless of my gender."
8. Sam McWilliams, San Francisco, Calif.
Tattoos at: Mermaid Tattoo and Diving Swallow
"I hang out with clients for nine hours a day or so — and sometimes feel like they are my resource for all information. I learn so much from them. I worked with one client for years it seems, and then found out one day he's fluent in sign language. Another was a trainer for dogs to find human remains. The list of clients' interests is boundless; they are my map of how beautifully diverse and fascinating our world is. I am very grateful for all that tattooing brings to my life."
Image Credit: J Bob Alotta
9. Marie Brennan, Oakland, Calif.
Tattoos at: Diving Swallow
"Working in women only shops for the majority of my career has led me away from the mainstream world of tattooing. This has made me feel pretty invisible to the tattoo arts promotion industry as well as to other (mostly male) tattoo artists who have more traditional styles, which can be frustrating. But there is a huge counter-balancing advantage to this experience in that I think I've been able to develop my own style and subject matter in a more fully realized manner than if I were concerned with what the rest of the tattoo world thought of me."
10. Eva Huber, Chicopee, Mass.
Tattoos at: Horseshoes and Hand Grenades
"A double-edged sword of trust is established with a lot of people because they view women as naturally nurturing, and therefore expect the experience to be more pleasant, and less painful. The truth is that your mind can convince you that something is completely awful, or entirely sublime... it's all in how you perceive and think about it.
Also, just being an artist who is capable of going anywhere they'd like with a backpack and their set of skills is an amazing and enthralling existence, which I believe defies gender roles completely."
All images courtesy of the artists and used with permission.