This Oscar-Winning Actress Might Have Trouble Finding Work Again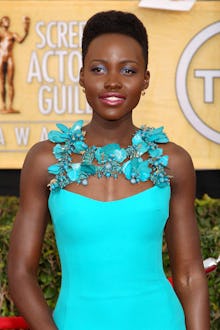 "You might know Lupita Nyong'o as Patsey, the incredible breakout star of 12 Years a Slave," reads the beginning of a BuzzFeed listicle. "But you should also know her as YOUR NEW FASHION IDOL AND A GODDESS WALKING AMONGST US."
So goes much of the praise being lavished on the 31-year-old actress. Does she deserve it? Probably: Rarely has a star captured the public imagination so quickly and unequivocally – especially a black woman.
Image Credit: AP
But what can we really expect of her career moving forward? Unfortunately – and through no fault of her own – Nyong'o's Hollywood future may not be as bright as her current stardom suggests.
What the hell are you talking about? While countless media outlets have celebrated her beauty, intelligence, talent and significance for the future of black women in Hollywood, Nyong'o has yet to announce her follow-up project. Rumors and speculation abound, including a reported meeting with J.J. Abrams about a role in his new Star Wars film. But all told her next move remains as unclear today as it was a month ago.
According to a recent Hollywood Reporter article, this is no accident. Writer Greg Tilday explains the "challenging lack of roles for darker-skinned actresses" in Hollywood, and how this might impact Nyong'o's prospects:
"While the stage would appear to be set for her to ascend to the A-list – just as Jennifer Lawrence did after her best actress win for Silver Linings Playbook last year – it's not that simple," he writes. "[There's] never been a black actress who has become the equivalent of a Julia Roberts or Angelina Jolie."
Image Credit: AP
Wow. The centerpiece of the Hollywood Reporter article is a series of less than optimistic quotes from Hollywood insiders and experts. Here are some samples:
"I don't think she has an audience – not yet. And there are so few roles for women of color; those roles are just not being written." - Anonymous studio executive.
"Would Beyonce be who she is if she didn't look like she does? Being lighter-skinned, more people can look at her image and see themselves in her. In Lupita's case, I think she has two-and-half, three years. If she can find a franchise – a Star Wars or a Bourne Identity – a big crossover film, or if she's cast by a significant filmmaker, then she's golden, she'll have carved out a unique path for herself … [But] it may require some forward-looking director to push for her." - Tracy Christian, talent agent for TCA Jed Root.
"If [an Oscar win] didn't benefit Halle Berry, who would seem to have, appearance-wise, the kind of package Hollywood likes, it's hard to imagine things are going to materialize for Lupita." - Dr. Todd Boyd, School of Cinematic Arts professor at the University of Southern California.
Double wow. It seems absurd that a hyper-intelligent, stunningly beautiful, preternaturally talented Oscar-winning Yale graduate would have any trouble becoming a Hollywood superstar – especially with the Internet treating her like the second coming of Christ. But such is the life of a black screen actress. That Nyong'o "may require some forward-looking director to push for her" boggles the mind. What more does the have to do?
At the same time, this skepticism is warranted. The industry has never been kind to black actresses – especially those with darker complexions – and the amount of work they get and awards they win reflects it:
Image Credit: PolicyMic
So what will it take for Hollywood to wake the fuck up? Ironically enough, probably something like Lupita Nyong'o becoming a major success. Her next career move holds incredible significance for the future of black actresses everywhere, and her fans await it with bated breath.
Let's hope she's only making us wait so long because she has something incredible lined up. Considering the impact she's already had, we'd be stupid to bet against her.