One Picture Perfectly Sums Up the Media's Interest in the BP Lake Michigan Oil Spill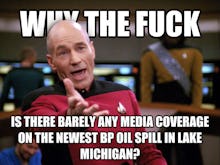 BP has recently more than doubled their estimate of how much crude oil has leaked into Lake Michigan following a spill from the Whiting refinery in northwest Indiana. Officials are now pegging the number between 15 and 39 barrels, each of which contains 42 gallons of crude oil, up from just 9-18 barrels.
While comparatively minor compared to other recent incidents, Lake Michigan serves as an water source for some 7 million people; the 68th St. water intake crib is just 8 miles northwest of the spill. It's also unclear just what BP let leak into the water; conventional crude oil is bad enough, but the refinery was recently upgraded to handle much higher amounts of heavy crude derived from tar sands, which is much more difficult to clean up.
Despite this, there's barely been any major media coverage of the incident, which raises serious questions about BP safety standards as the Whiting facility ramps up processing of tar sands crude.
This image sums up how most of us watching the situation are feeling:
Even the state's senators are concerned. Republican Mark Kirk and Democrat Dick Durbin, both from Illinois, say that "Given the Whiting refinery's recent expansion of its operations to double the amount of heavy oil sands being processed, this spill raises questions about the long-term safety and reliability of BP's new, expanded production."
Chicago mayor Rahm Emanuel is demanding answers too. "I'll expect a full accounting to the public and the city of Chicago of the damage that was done, how much, what the clean up efforts were, how comprehensive they have been and what actions the company will take to ensure this doesn't happen again," he said on Wednesday.
According to the Chicago Tribune, the leak came from a distillation unit opened in July 2013 that was the most prominent part of a nearly $4 billion overhaul designed to make the Whiting facility capable of processing tar sands oil from Alberta. While the spill was isolated and stopped quickly, the leak could have easily been far worse.
Spills of even regular oil can have devastating effects on local communities and the environment. The 2010 Deepwater Horizon BP spill in the Gulf of Mexico has recently been linked to lethal birth defects in tuna and amberjack, as well as low birthrates among dolphins. Oil cleanup workers have experienced severe health problems following the cleanup, and local residents have in cases became extremely ill.
As ThinkProgress notes, other major leaks have occurred in the past few weeks as well across the country:
"The spill comes on the heels of a barge collision that spilled up to 170,000 gallons of oil into into Galveston Bay Saturday, and just over a week after a spill of 20,000 gallons of oil was reported in an Ohio nature reserve."
At this point, it's almost becoming the norm that oil spills happen around the country. But whether it's relatively minor or horribly catastrophic, each spill can have terrible effects on the nearby community and environment, and just because you don't read about it, doesn't mean it's going away.