14 Photos of Brazilian Women Standing Up to Say They Don't "Deserve to Be Raped"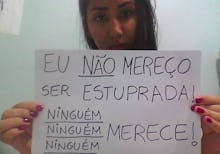 Earlier this week, Brazil's Institute for Applied Economic Research (IPEA) unveiled a shocking statistic: over 65% of survey respondents said that "if dressed provocatively, women deserve to be attacked and raped." The most disturbing part of that figure? Over 66% of the people who participated in the survey were women.
The majority of respondents believed that the fault for rape lies not with the rapist, but with the women. Over 58% said "if women knew how to behave, there would be less rape," taking the "I know you want it" mentality to a disturbing level.
But the survey has also sparked an outrage across Brazil, with tens of thousands taking to the Internet and social media to express their anger and disgust. In response to the survey's findings, Brazilian journalist Nana Queiroz created a Facebook page with the hashtag #NãoMereçoSerEstuprada, which translates to: #IDon'tDeserveToBeRaped. She then invited people to post selfies with the hashtag, and within 24 hours over 32,000 women — and men — joined the page.
The page has attracted its expected share of trolls and misogynists, but the pictures below demonstrate how these women refuse to put up with sexism and rape culture. By claiming their bodies as their own, they are fighting against society's entitlement over the female body and the destructive mindset that vilifies the victim, not the attacker.
1.
2.
3.
"No one, no one, no one deserves it."
4.
5.
6.
7.
8.
9.
"No woman deserves to be raped."
10.
11.
12.
13.
"#iammine"
14.
15.
"Whether I'm in a burqa or naked, I don't deserve to be raped."