How The Middle East Is Solving the Gender Gap That Silicon Valley Is Ignoring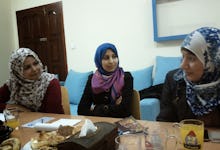 There might be ongoing discord in the Middle East, but the startup scene in this area of the world is much closer to solving the tech gender gap than the one in Silicon Valley.
Only 10% of all Internet entrepreneurs are women. However, experts estimate that the percentage of women Internet entrepreneurs in the Middle East and North Africa region is at 23% and in the Gulf it's 35%.
As of 2012, 40 startups have been launched from Business and Technology Incubator, the first incubator in Gaza, a Palestinian city. Surprisingly, more than half of these companies are run by women. 
Even Google knows that there's something special happening in this area of the world. The company's #40Forward program is aimed at increasing women representation in high tech by 25% this year and around 25% of the programs chosen are in the Middle East.
When asked what inspired Google to invest in so many companies in the Middle East — six in Israel and four in the Arab world — Bridgette Beam, global entrepreneurship manager at Google, told PolicyMic that programs that were chosen catered specifically to women entrepreneurs. "We selected projects and approaches that we believed could attract and grow female entrepreneurs."
There's no cultural bias against women techies.
The cultural bias against women entering technological fields simply doesn't exist in the Arab world. Despite political instability in Gaza, entrepreneurship is budding and women entrepreneurs will soon outnumber men.
Here, women entrepreneurs are just as popular as men. Wamda, a #40Forward partner that empowers entrepreneurs in the MENA (Middle East-North Africa) region, recently hosted a startup gathering where 35% of the attendees were women. 
After speaking with Nina Curley, Wamda's editor, the Economist explained the reasons behind the high number: While more than half of university graduates in the Middle East are women, only 21% of the workforce consists of women. However, "the Internet … is a new space that is more meritocratic and not as heavily male. The technology also lets entrepreneurs work from home, making it easier to raise children."
An entrepreneur at the Wamda startup gathering explained, "Well-educated women in Saudi Arabia want to work, but their family often objects … running an Internet start-up from home is the perfect compromise." In short, Arab women in traditional societies are utilizing the power and access of the Internet to create their own jobs.
Women study STEM majors at a higher rate than men.
"Gaza has an incredibly high percentage of women involved in technology at early stages," said Iliana Montauk, director of Gaza Sky Geeks — a #40Forward partner and the first accelerator in Gaza. "Women study computer science at higher rates than men and they attend Startup Weekend competitions at nearly the same rate as men."
Image Credit: Iliana Montauk
And despite women's constant struggle for equality alongside men in the Arab world, in industries where math or science is crucial, they're on the same playing field, Montauk told PolicyMic.
Women are now studying engineering at the same rates as men so they have the skills. But they also need the support from their community, which is exactly why #40Forward plans on promoting more women entrepreneurs in the media.
Gazan women have a difficult time explaining the startup world to their friends and families.
"Through focus groups, we learned that women's families in Gaza often do not support their efforts to launch a startup because they do not see women returning home with income or a certificate," said Montauk.
"Gazans typically consider those as signs of accomplishment. The concept of a startup isn't yet understood by most of the population." To address this obstacle, Gaza Sky Geeks is providing stipends to some of its female participants, "so they can show their families that they are bringing money home."
Women entrepreneurs make it a point to support each other.
UpWest Labs, a unique four-month accelerator program for Israeli entrepreneurs, is using its #40Forward grant to influence women and motivate investors to invest in female-led startups. Shuly Galili, UpWest Labs co-founder, noted that women-led startups traditionally have had less access to venture capital than men. "We want to build relationships with [angel investors] that are loyal to invest in women and increase and challenge that number," she told PolicyMic.
Two of the most successful Arab female entrepreneurs to date have come from the MIT Enterprise Forum of the Pan Arab Region, another #40Forward partner. Joelle Yazbeck, the forum's program manager, thought one of the key ways to increase the number of women in tech is through "inspiring through role models." She mentioned graduates Hind Hobeika, founder of Instabeat, and Rana el Kaliouby, founder of MIT startup Affectiva, as entrepreneurial role models.
Image Credit: Joelle Yazbeck
Hobeika won the MIT Enterprise Forum Arab Startup Competition in 2013, and her company was named as one of the hottest global startups of 2013 by Forbes. Entrepreneur magazine featured Kaliouby as one of the most powerful women to watch in 2014. Yazbeck said that there needed to be "more of Hind and Rana so that more women can relate to entrepreneurship and get motivated to become the next success story."