How 15 Famous Screenwriters Got Their Big Break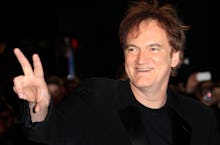 Screenwriting is a tricky trade and certainly not one that its practitioners fall easily into. There is no rhyme or reason to how writers make their way to the big screen, and though many begin by going to film school, a good majority of Hollywood's most successful scribes do not.
The first step toward a career in screenwriting begins with making time to write, and the big names below prove that what aspiring screenwriters need to set themselves up for an Oscar is money to pay the bills and time on the side to work on their scripts.
For a dose of inspiration, we've taken a peek at what some of Tinseltown's biggest names in writing were doing as their day job when they got their big break.
1. Quentin Tarantino was working at a video rental store.
The quirky filmmaker spent his early days working at Video Archives, a video rental store in Manhattan Beach, Calif. He worked on script ideas with co-worker Roger Aviary, with whom he shared the 1995 Best Original Screenplay Oscar for Pulp Fiction. While working at the video store, he also wrote the screenplays for True Romance and Natural Born Killers.
2. Aline Brosh McKenna was writing for magazines.
McKenna was in the publishing industry and pitching freelance story ideas to unimpressed magazine editors when she decided to take a six-week screenwriting course at NYU. Her film ideas, which the rest of the class laughed off as too mainstream, caught the attention of an agent. Since then she's penned rom-com classics like The Devil Wears Prada, 27 Dresses and Morning Glory.
3. David O. Russell was interning for PBS.
Before writing Oscar nominated scripts like Silver Linings Playbook and American Hustle, Russell spent his post-undergrad years working as a union organizer in Maine, teaching literacy in Boston and interning with Smithsonian World for PBS in Washington, D.C. He wrote scripts outside of his day jobs, the first being Bingo Inferno, a short film that was accepted into the 1987 Sundance Film Festival.
4. Karen McCullah Lutz was dabbling in marketing and public relations.
McCullah Lutz had embarked on several careers outside of the entertainment industry — including marketing for an investment firm, public relations for environmental nonprofits and furniture painting — when she was living in Denver and sending query letters to LA production companies. She received a response from Karen Smith, a development coordinator who was impressed with her script which became the beloved movie 10 Things I Hate About You.
5. Melisa Wallack was a partner in a tech company.
One half of the Oscar-nominated screenwriting pair for Dallas Buyers Club, Wallack was heading the West Coast office for a data discovery company she had founded with her sister when she started writing the script for the future Oscar nominee.
6. Diablo Cody was blogging about her life as a stripper.
Cody quit her day job as a clerk at a Chicago bankruptcy firm to become a full-time stripper, an adventure she chronicled on her blog. The blog turned into a book, an opportunity that brought Cody into contact with Hollywood execs who took an interest in her indie coming-of-age comedy Juno.
7. James Cameron was a truck driver.
After studying physics and English at a two-year community college in California, Cameron worked as a truck driver. In his spare time, he wrote scripts and taught himself about special effects by reading graduate students' theses in the USC library. After seeing Star Wars in 1977, he quit his truck-driving job to pursue a film career.
8. Aaron Sorkin was a house sitter.
The pioneer of the "walk and talk" scene, Sorkin, the mind behind movies like The Social Network and A Few Good Men, spent much of his 20s living the life of a stereotypical struggling actor. He worked odd jobs including driving limos, handing out fliers and delivering singing telegrams. It was one of his gigs as a house sitter that steered him toward scriptwriting when he started typing on an IBM typewriter he found in the apartment he was taking care of.
9. Richard Linklater worked on an off-shore oil rig.
The writer behind Before Sunset, Before Midnight and Dazed and Confused dropped out of Sam Houston State University in Texas to work on an off-shore oil rig in the Gulf of Mexico. He spent his free time on the rig reading and writing. Upon returning to land, he moved to Austin and began work on his short film, 1988's It's Impossible to Learn to Plow by Reading Books.
10. John Patrick Shanley enlisted in the Marines.
Shanley, an Oscar-winning screenwriter (and Pulitzer Prize-winning playwright), is acclaimed for writing both the play and movie versions of Doubt, among others. After being put on academic probation following his freshman year at NYU, he enlisted in the U.S. Marines and served a stateside post in the Vietnam War. When he returned to school, he graduated as valedictorian. After graduation he wrote plays and supported himself with a series of jobs that included elevator operator, house painter, furniture mover, locksmith and bartender. It was a National Endowment for the Arts grant that finally let him focus on writing full time and devote his time to a script that became Moonstruck.
11. Nancy Meyers sold cheesecakes.
The writer and director behind middle-aged rom-coms It's Complicated and Something's Gotta Give worked as a production assistant for The Price Is Right and as a story editor for producer Ray Stark when she moved to Los Angeles from Philadelphia. A desire to focus on scriptwriting led her to quit her assistant jobs and start her own cheesecake business, a venture that allowed her to spend her time outside of the kitchen writing movies.
12. Lisa Choldenko worked in the Israeli Ministry of Justice.
Known for penning 2010's The Kids Are All Right, Choldenko spent her early years traveling — first to India and Nepal, then to Jerusalem, where she worked for a lawyer in the justice department. She moved to New York in the early 1990s and found work as an assistant editor on various films and wrote short films on the side.
13. Oliver Stone was a Vietnam War veteran.
After serving in the Vietnam War, Stone went to NYU and graduated with a BFA in film. He made a short film based on his time in Vietnam but worked as a taxi driver, production assistant, messenger and salesman before he made screenwriting gold with 1978's Academy Award-winning Midnight Express.
14. William Goldman was a clerk in the Pentagon.
A novelist, playwright and screenwriter, Goldman has won Academy Awards for the screenplays of Butch Cassidy and the Sundance Kid and All the President's Men. He first became fascinated with writing during a creative writing course in college. After graduating from Oberlin College in 1952, he went into the Army and worked as a clerk in the Pentagon and wrote stories after work.
15. John Ridley was writing sit coms.
Before winning an Oscar for 12 Years a Slave, John Ridley had a variety of writing jobs including working as a staff writer on the TV show Martin as well as The Fresh Prince of Bel Air. What got Ridley in the movie writing world was a novel he wrote, failed to sell and then turned into a screenplay. That novel was Stray Dogs which became a movie directed by Oliver Stone.