Read Sally Field's Beautiful Letter About Raising Three Sons — One of Whom Happens to Be Gay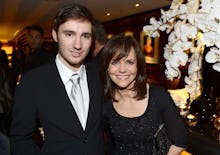 It's no secret that actress Sally Field is an LGBT ally. The Lincoln star made news in 2012 with her inspiring speech at the Human Rights Campaign (HRC) gala. Now the Academy Award-winning actress has done it again — this time with a beautiful open letter about raising her three sons, one of whom is gay.
Field's letter is an effort to help the HRC, a 34-year-old national organization for LGBT civil rights, raise $150,000 by Monday to oppose "License to Discriminate" bills cropping up in some state legislatures.
In the letter, Field writes about her experience raising three boys, specifically about raising her son Sam Greisman, who is gay. 
"The three things I'm most proud of in my life are my sons, Peter, Eli and Sam," Field writes. "They are kind, loving and productive people. Each with their own list of talents and accomplishments. Sam is my youngest son, by 18 years, and he's gay. To that, I say: So what?"
"But Sam was different," Field notes in the letter. "And his journey to allow himself to be what nature intended him to be was not an easy one."
Field admits that her two other sons advised her to let Greisman handle this on his own. She realized the best thing she could do was to simply offer her unconditional support: 
When I saw him struggling, I wanted to jump in. But his older brothers held me back. They told me I couldn't travel that road for Sam. It was his to travel, not mine. I had to wait for him to own himself in his own time. I could make it easier only by standing visibly to the side, clearly loving him, always being there and always letting him know. ... [It is] one of the great privileges of my life to have been allowed to be a part of Sam's journey.
As such, she decided to get involved in the fight for LGBT equality by joining the HRC.
Field's missive is timed, of course, to the HRC campaign raising awareness about the recent spate of anti-gay legislation with the potential to discriminate against the LGBT community.
"Why would anyone want to prevent my son — or anyone's son or daughter — from having basic legal safeguards like family medical leave, Social Security survivors' benefits, or health insurance?" Field asks.
Whether appearing on Oprah's show or explaining to Katie Couric why dropping the f-word was necessary, Field has proved herself a steadfast ally in the past few years.
"You all have fought for him as surely as if you were one of his parents," she said at the HRC gala back in 2012. "You've changed and are changing the lives of little boys and girls who realize somewhere along the way they're just different from their other brothers and sisters."