The White House Responds to PolicyMic's Health Care Open Mic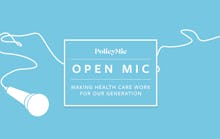 Editor's note: In December, PolicyMic hosted a Health Care Open Mic challenge calling on young Americans to share their ideas, projects and proposals for what our generation and the White House can do to make health care work for us and get our generation educated about the ACA. The response was exciting. Thousands of young people across America weighed in and voted on each other's submissions. PolicyMic sent the three most Mic'd submissions to the White House for comment, and below, Christen Linke Young, Senior Health Policy Advisor, Domestic Policy Council, responds directly to the three most Mic'd submissions in the challenge.
Thanks to everyone who participated in PolicyMic's Health Care Open Mic challenge. The Open Mic helped thousands of you get up to speed on the basics of the Affordable Care Act, and many of you put forward unique ideas to get the word out about enrollment.
Over the last few months, young Americans have stepped up, mobilizing across the country to make sure their peers understand their health care options. We've been using a few new tactics as well. Last week, the President answered questions online at Quora, LeBron James has pitched in with his own PSA, and it case you missed it, the President spent some time with Zach Galifinakis on Between Two Ferns. We've been working with grassroots organizations that are knocking on doors, setting up information booths and phone banking to make sure people know they need to get signed up by the end of the day today.
And just in case you haven't signed up yet, or if you have friends, family, or neighbors who still need coverage, make sure to check out HealthCare.gov or call 1-800-318-2596 to get the information you need. If you miss today's deadline (March 31st), you may not be able to get health insurance again until next year!
Now, on to your questions…
1. National Engagement: Making Poetry: Speak Out, Sign Up, Get Covered
Let's combine our health stories to create a movement: A national spoken word poetry project. We need an interactive community to encourage millennials to sign up for health insurance; this includes an engaging medium to share ACA information.
The project will gather stories from millennials about their experience with health and insurance. Anyone — ages 18 through 35 — can submit a story. The platform is three-fold:
1. Responses are compiled into a spoken word poetry piece and performed at open mic nights across America.
2. A video of the project will feature millennials sharing health experiences, including life without health coverage.
3. Act as a call to action and connect ACA navigators at poetry events with uninsured.
As millennials, we look for media that is inspirational, relatable, and connects us to the world in which we live. By combining ACA information with personal health narratives, the effect has powerful potential. Will you help join this movement?
Response: Thanks so much for the idea and for getting engaged to help spread the word about health care. Those who want coverage this year have to sign up by March 31, so we're doing everything we can to make sure people know to visit HealthCare.gov right away. Central to our efforts is making sure people hear stories like Semira's:
Semira is 24 years old and attends San Diego State University. A few months ago, she signed up through Covered California, the state's health insurance marketplace. Semira was able to get covered through Medicaid. In February, she saw a doctor for the first time in four years, at no cost, because of the Affordable Care Act. In explaining why the preventive care she received was important, Semira remarked, "I may be young, but I am not invincible." 
There are stories like Semira's all across the country. Sharing these stories of those that have gained coverage is one of the best ways to show others the benefits that are available to them. So the short answer is: Go for it. Over the last few months, we've been doing a lot to spread the word about enrollment success stories, and now we have over 6 million of them. 
2. Policy Proposals: They want you to think this is complicated. It's really not. Let competition work.
Due to government tampering, there is no market for health insurance. It's currently illegal to:
*Offer customers catastrophic-care health insurance
Ending the regulatory burden and tax incentives in just these three areas would:
*Give millennials the ability to buy affordable health insurance that works for them
Paying for routine care out of pocket instead of through insurance would allow and incentivize price shopping and competition, decreasing prices and increasing quality. It would also reduce administrative costs and overtreatment. 
Response: One of the main goals of the Affordable Care Act is to bring competition and choice to the health insurance market. Before the health care law, those who bought coverage in the individual market faced a broken system – they could be denied coverage or charged more based on pre-existing conditions, women were charged more than men and one insurance company controlled more than 50% of the individual market in the majority of states.
Because of the health care law, all of that is changing. Insurers can't charge more based on gender or health status. Coverage can't be denied because of a pre-existing condition. One quarter of insurance companies offering coverage in the federal marketplace are new entrants to the market, bringing consumers more choices. Individuals can compare all of their health insurance options in one place and chose the plan that works best based on the features that are important to them. And those who don't get coverage through work can qualify for tax credits that finally make coverage affordable – 6 in 10 uninsured Americans can get coverage for $100 per month or less, and nearly half of uninsured young people can get a plan for less than $50 per month.
3. Local Education: President Obama, unveil a holiday gift: health care price
A recent Kaiser poll notes that uninsured young adults cite cost as the greatest reason not to purchase insurance. Let's give young adults enough cost information for them to realize that insurance is a great deal.
In healthcare, prices are often hidden and vary, in part, by the insurance plan patients have. Thus, insurance companies are best positioned to tell patients a range of out-of-pocket prices they might pay for certain care.
If young adults view this range of prices alongside the cost of a plan, they would quickly notice that, with insurance, they can save more than $150 on routine checkups and thousands more on some surgeries. This new price information will directly prove insurance is worth more than the $95 exemption fee.
In health care, it is a gift to know how much we pay. Well, it's the holidays, Mr. President. We want another health care gift, one that we've long desired.
Response: The health care law provides new tools to help consumers understand their options and make the right decisions for them and their families.
Under the health care law, the Health Insurance Marketplace provides unprecedented transparency so consumers can comparison shop to find a plan that meets their needs and budget.  In the Marketplace, you'll be able to see deductibles and copays across different plans, allowing them to clearly evaluate their options.  It is easy to shop and compare insurance plans.
In addition, last year, the Administration took important steps to release new data to the public, that, for the first time, include information comparing the charges for services that may be provided during the 100 most common Medicare inpatient stays and 30 most common outpatient stays. To make these data useful to consumers, we have also provided funding to data centers to collect, analyze, and publish health pricing and medical claims reimbursement data. Businesses and consumers alike can use these data to drive decision-making and reward cost-effective provision of care. This is part of the Administration's effort to make new health data available to spur innovation and provide greater transparency to empower consumers with information.
But you need to take action now – open enrollment in the Marketplace ends today (Monday, March 31), so if you need health insurance, visit HealthCare.gov or call 1-800-318-2596 today to learn about your options!