Darth Vader Is Now Running for President in Ukraine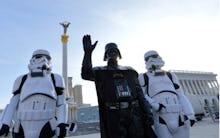 Ukraine's presidential race is on, and there is an interesting, eclectic set of characters in the mix. Twenty-four have already expressed their intent to run, while seven have officially registered their candidacy.
Former world boxing champion — and future brother-in-law to Nashville star Hayden Panettiere — Vitali Klitschko just dropped out, lending his support to billionaire chocolate maker Petro Poroshenko. Another popular candidate is Yulia Tymoshenko, a gas tycoon and the first woman to hold the post of prime minister. She was recently released from jail after being convicted under trumped-up charges of abuse of power, and is well-known for her outspoken politics as well as her distinctive hair braids.
Now, a new candidate has entered the race, with perhaps the biggest international (and galactic) fame and following: Darth Vader.
The masked man is a candidate of Ukraine Internet Party, which aims "to create an electronic government in Ukraine, transition to digital media and offer free computer courses to all citizens." He's been a popular figure at the Euromaidan protests, and has previously run for mayor of Odessa, as well as a parliamentary seat. And now he's looking to control all of Ukraine.
"I am prepared to take responsibility for the fate of this country, if fellow citizens do me this high honor. I alone can make an empire out of a republic, to restore former glory, to return lost territories and pride for this country," Vader said in a statement.
Flanked by Stormtroopers as well as the Emperor's Royal Guard, Vader held a dramatic press conference that was met with a standing ovation. (Chewbacca was also in attendance for some inexplicable reason.)
Watch the video below:
What else is on his platform? The emperor demands "a plot of land in the southwestern city to park his space ship."
A wealthy entrepreneur-turned-politician? A rabble-rouser with hair braids? A power-hungry Sith Lord emperor? Sure sounds like a familiar story.
Image Credit: AP (all)
Image Credit: Wikimedia, Wikimedia, AP
The colorful Ukrainian elections will take place on May 25.