The Democrats Have a Secret Weapon to Win Votes in November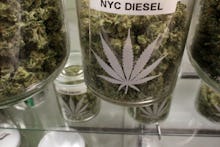 Things aren't looking so good for the president's team during the upcoming 2014 midterm elections — but Democrats' secret weapon this November could be weed. A new George Washington University Battleground poll that found 39% of likely voters would be "much more likely" to go out and vote if marijuana legalization was on the ballot, and an additional 30% said they were "somewhat" more likely to vote in the election if legal weed was on the table.
Legal medical marijuana enjoyed 73% approval, far outstripping decriminalization of all personal possession, which stood at just 53% support.
Joked Democratic pollster Celinda Lake, "[This] is why you can imagine we're very excited about our marijuana numbers in this poll, not only for personal consumption to get through this election, but in terms of turnout."
"What's really interesting and, I think, a totally unwritten story is that everyone talks about marriage equality hitting a tipping point [of acceptance]. Marijuana is hitting the tipping point. It's really astounding about how fast it's moved."
The impact in 2014 may be limited. Sixty-four percent of Republicans say they are "extremely likely" to go out and vote, opposed to just 57% of Democrats. And legal marijuana isn't going to be the deciding factor in any major congressional battleground states. Initiatives to legalize the recreational marijuana trade are on the ballot this year in heavily-Republican Alaska (where 44% of voters self-identify as somewhat or very conservative, compared to just 19% who claim to be liberal) and likely in Oregon, where the state's two senators and four out of five reps are Democrats. Alaska's initiative will not be decided during the general election, instead occuring during the August primary ballot. Oregon's initiative has yet to be approved, but is expected to be strongly backed by national donors.
One place where the marijuana debate may have an impact is Florida. An initiative to legalize medical marijuana is on the table in the Sunshine State, which is widely expected to be one of the most competitive gubernatorial races of the year. While a majority of voters support reform, it won't be a cakewalk. Incumbent Rick Scott is going to face an incredibly difficult race against former Gov. Charlie Crist, who openly backs medical marijuana.
So marijuana will impact just three states this year — but these initiatives will be a test case for 2016, when Democrats will be able to bring the full force of a national presidential campaign to bear across the 50 states and, barring any disasters, marijuana reform will be a safer bet for candidates. If it goes well now, you can expect a lot more smoke in 2016.