OkCupid Is Taking on Mozilla's Homophobic CEO by Showing Users This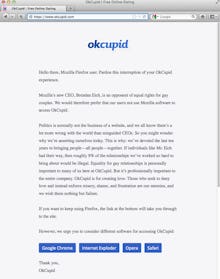 On Monday, Mozilla Firefox users got a surprising message when they tried to access the online dating website OkCupid. It didn't have anything to do with an Internet connection issue or a server overload: OkCupid just wanted to let you know something about Mozilla's new CEO Brendan Eich.
If you visit the OkCupid homepage through Firefox, you're now greeted with this message:
"Mozilla's new CEO, Brendan Eich, is an opponent of equal rights for gay couples," the message reads. "We would therefore prefer that our users not use Mozilla software to access OkCupid." There are links to access OkCupid through other browsers — Google Chrome, Internet Explorer, Safari, Opera — or to continue to the site through Firefox, though the option is guaranteed to make you pause for a bit.
"Those who seek to deny love and instead enforce misery, shame, and frustration are our enemies, and we wish them nothing but failure," the message adds.
Why is this happening? OkCupid's action comes after the revelation that back in 2008, Eich donated $1,000 to support Proposition 8, the controversial California legislation that eventually banned same-sex marriage in the state.
Eich assumed his position on Mar. 24, and his appointment has already been met with great resistance from within the company's ranks. Half of Mozilla's six-member board of directors reportedly resigned over Eich's hiring, and employees have openly tweeted out their dissatisfaction with their new CEO:
Quite the backlash: In response to the internal and external backlash, Mozilla released a statement clarifying that Eich does not represent all of the company's views. "Mozilla's mission is to make the Web more open so that humanity is stronger, more inclusive and more just. This is why Mozilla supports equality for all, including marriage equality for LGBT couples," the statement read. "Mozilla has always worked to be a welcoming community, committed to inclusiveness and equality for all people. One voice will not limit opportunity for anyone."
While that philosophy may often be true, in this case, that "one voice" happens to be the head of the company. Eich has responded to criticism by promising to implement inclusive policies and asking for an opportunity to make those changes. "I can only ask for your support to have the time to 'show, not tell'; and in the meantime express my sorrow at having caused pain," he wrote on his blog.
The firm stances taken by both OkCupid and Mozilla's own employees are especially remarkable given Mozilla's standing in the industry; it's a highly popular browser with an estimated 500 million users around the world. Time will tell whether or not Eich has had a change of heart, but at least we get to see a powerful CEO being taken to the task.