11 April Fool's Pranks Companies Are Playing on You Today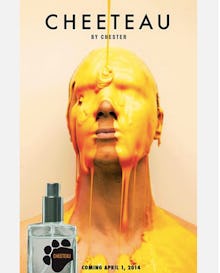 Welcome to April — have you been fooled yet? If you thought wading through headlines was hard the other 364 days a year, the Internet takes special care to trip you up on this trickiest of days. 
For a holiday that used to be about whoopie cushions and perfectly placed fake vomit, April 1 is now a corporate extravaganza. In honor of this 400-plus-year-old April Fool's pranking tradition, here are 11 companies giving their Internet friends a little jab in the ribs. Sure, it's facepalmy, but today is April Fool's. Have a sponsored laugh.
1. Google Naps
Google Naps, built atop Google Maps, takes your location and naps it. Let's look at New York City, for example: A quick perusal of Google Naps shows user-submitted wins for best napping locales, including breezy benches and random beds. The men behind the napping madness are actually not Google affiliated, but rather Dutch marketer-pranksters Venour and Kakhiel. They have covered their bases with a "no lawsuits" plea: 
Nap on.
2. Airbrb
Office workers, unite: Airbrb takes the principles of Airbnb and applies them to the grind of your 9-to-5 (or your 9-to-midnight, amirite?). Now, instead of wasting money-making opportunities when you go to lunch or use the john, you can rent out your desk and rake in a little extra cash. Airbrb should be real. Someone get on this.
3. Gmail Shelfie
A teasing look at our culture of narcissim, Google's blog proudly launches the faux Gmail Shelfie. As the page describes, "Gmail Shelfie is built on the idea that you shouldn't be selfish with your selfie. With just a few clicks, your mom, your aunt or that girl you have a crush on can set your Shelfie as their Gmail theme so they can enjoy checking, reading and writing emails while seeing your friendly face in the background." Creepy or delightful?
4. Hoff-bombing
The minds at Google are making a whole lot of marketing mayhem. Also announced on the Google blog today, Hoff-bombing, aka superimposing classic images of David Hasselfhoff onto your candids. It's terrifying in just the right way. #Hoffsome. 
5. Google Maps: Pokémon Challenge
The next item on Google's lineup of tomfoolery is the Pokémon Challenge, aka "the most rigorous test known to man to find the world's best Pokémon master." The spoof's video production value is higher than most indie films'. Google went full-throttle into this one.
6. Samsung Fingers
Another tech company in the corporate joke mix, Samsung's Samsung Fingers is a prank that feels increasingly (uncomfortably?) close to reality. The glove is pegged as a tool to "help you better feel life," a description that sounds sinisterly similar to the definition of social media. 
7. Mini Cooper T
Mini Cooper UK has gifted the world with a wonderful tea-fueled car, and a knee-slapper of classic British humor. They designed the car in chamomile and Earl Grey themes and even feature a tea bag dangling from the gas tank. Jolly good. 
8. Domino's Edibox
Perhaps the most brilliant edible invention of late, Domino's UK teased a fake edible pizza box that should be made real. A box made of pure dough would likely catapult sales to record levels. There are 19 days until 4/20. Get moving, Domino's. 
9. Emojify the web
Words are cheap. Talk is cheap. Emojis are power. Google (again!) Chrome is spoofing the day with a way to emojify the web. Again, points for video quality. Again, I'm sure there are a lot of people out there who are ready for this to be real. 
Power on marketing gods. Power on. 
10. Cheeteau by Chester
A fragrance by Cheetohs is the last thing that anything on Earth wants. Cheetohs knows it. Cheetohs gets it. Cheetohs has made a full 30-second commercial expressing it. Cheetohs are back on the map. 
11. 'Rotisserie Chicken': A Netflix Original
Image Credit: Netflix 
Netflix has a streamable 73-minute movie of a chicken roasting rotisserie style. It is rated G. People are apparently watching.