Michael Jackson Is About to Make a Comeback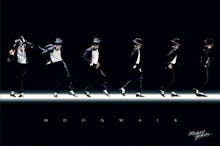 The news: This is it, music fans – the off-the-wall, thrillingly bad, dangerously historical yet ultimately invincible Michael Jackson album you've been waiting for.
It's called Xscape. And it comes out May 13.
Image Credit: Billboard
WUT. The moonwalking King of Pop rests in power, but Sony Corp. struck a $250 million deal with his estate in 2010, granting them the rights to release 10 albums of posthumous material through the year 2017. The Wall Street Journal called it "the most lucrative recording contract ever," but Sony has so far put out just one album, 2010's Michael.
Sony subsidiary Epic Records' CEO L.A. Reid has subsequently been granted access to an entire library of unreleased tracks that span decades. For Xscape, he curated eight songs with completed vocals and contracted various high-profile producers to "contemporize" their sound. Timbaland is the project lead, with added work by Rodney Jerkins, Stargate, Jerome "Jroc" Harmon and John McClain.
The result is a collection that aims to recapture the glory of Michael's musical heyday, but with a modern twist: "Michael left behind some musical performances that we take great pride in presenting through the vision of music producers that he either worked directly with or expressed strong desire to work with," Reid said on Monday. "We are extremely proud and honored to present this music to the world."
Considering Timbaland's success with musically molding Justin Timberlake in the King of Pop's image, he seems the perfect man for the job. A track listing for the album has yet to be released, but Xscape is available for pre-order on iTunes today.
Run, don't walk. By the time he passed away in June 2009 at age 50, Michael Jackson had amassed 13 number one singles on Billboard's Hot 100, the most by any male solo artist. His legendary 1982 album Thriller remained on top of the Billboard 200 for a record 37 weeks, with an estimated 65 million copies sold worldwide to date. Five of his albums — starting with Dangerous in 1992 — consecutively debuted at number one in the U.S.
The year he died, he became the first artist to have four of the top 20 best-selling albums in the same year in the United States. His total U.S. album sales stand at 75.5 million, according to RIAA.
And while you're busy re-evaluating what you've done with your life, here's the video for "Man in the Mirror."