A British Sniper Killed 6 Taliban Soldiers — With One Bullet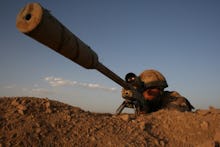 Well, if this isn't real-life Call of Duty, I don't know what is.
A new report from the U.K. Ministry of Defence tells the story of how a British sharpshooter took out six Taliban insurgents with a single bullet. How? By taking out the trigger of a suicide bomb from 930 yards away.
The 20-year-old lance corporal made this insane shot in Kakaran, a region in southern Afghanistan, last December. His accomplishment wasn't revealed until now, but according to his commanding officer, the shot prevented a major attack on British forces — a second suicide bomb was discovered nearby.
"The guy was wearing a vest. He was identified by the sniper moving down a tree line and coming up over a ditch," Lt Col Slack told the Telegraph. "He had a shawl on. It rose up and the sniper saw he had a machine gun."
"They were in contact and he was moving to a firing position. The sniper engaged him and the guy exploded. There was a pause on the radio and the sniper said, 'I think I've just shot a suicide bomber.' The rest of them were killed in the blast."
Image Credit: The Daily Mail
What is going on in Afghanistan? While the crack-shot may sound like a cool war story, it demonstrates that the Taliban is still making a stand, even as British and American forces withdraw from the country and relinquish command to the Afghan military. There were once 137 bases in Helmand province; now only two are left.
When the initial call about these Taliban insurgents came in, British commanders were concerned that a suicide bombing might take place on the U.K. base, or even at civilian targets such as a school or a government building. Over 330 British soldiers and 90 Afghan troops had to be deployed to take down 20 Taliban insurgents.
Still, the British and American forces' decision to pull out indicates growing confidence in the Afghan military's ability to take over, especially as an important election looms. The country will hold nationwide elections on April 5, the third since the fall of the Taliban — but its first democratic transfer of power.