How to Become a Successful Freelancer in 6 Months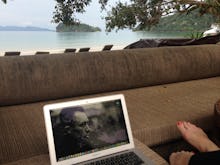 I've worked alongside a beach in Malaysia. I've taken yoga classes at 2 p.m. because I felt like it. And no, I don't have a huge savings account (yet!) or a trust fund. I'm a freelancer.
Two years ago, I made the leap after two incredible office jobs in the publishing world: First as an editorial assistant at Vanity Fair magazine, and second as the managing editor of the Aspen Institute's magazine. While I loved the work and people at both places, I knew I'd be happier working on my own schedule. Plus it would afford me significant international travel opportunities — a huge priority.
If you've ever fantasized about such possibilities, you should consider taking the leap into the freelance economy as well. In fact, now is the best time — a recent study suggests that 40% of American workers will be freelancers by 2020.
In such an unstable economy, it may be difficult and unfulfilling to hold on to a job you aren't crazy about. A new study by Princeton University economists found that only 11% of Americans who have been unemployed for more than six months will ever find full-time work again.
While that might sound bleak, I'd suggest the other 89% view it as an opportunity to follow in my footsteps with one of the best decisions I've ever made: Go freelance.
Here are nine things I've learned during my two years of freelancing that have made it not only possible, but absolutely invigorating. Follow my lead, and I bet you'll be happily self-employed — and too busy to even remember what working in an office was like — in six months or less.
1. Talk to as many people as you can.
People who know me are always surprised to learn I'm shy and introverted. But I realized early on that the most interesting life and work occurrences come from unscripted interactions with people who start out as complete strangers. This is especially true as a freelancer. Your clients will be people you sit next to on trains and planes, CEOs you cold-email and friends-of-friends-of-friends. So strike up a conversation — it gets easier, my introverted friends, I promise.
2. Pitch to clients you're interested in.
Whether you're a freelance writer, marketer or graphic designer, your clients will be hiring you for your skills, not your comprehensive knowledge of their company or industry.
Don't worry about going after companies you think you should because of your experience, but rather pursue companies or work you believe in. Why? Because if you're not interested in the work, it'll be even harder to finish, since you won't have a boss looking over your shoulder.
I've done writing and research for a technical university, a director making a movie about Ukraine and a lifestyle-based tech startup — none of which I had any experience with before signing on.
3. Be more productive when working for yourself.
According to the most recent Gallup workplace survey, 70% of American workers are "not engaged" in their daily work. But this won't fly when you're working for yourself — you can't afford it.
Most days, I set a timer for four hours and try to get as much done in that span as I normally would in a standard eight-hour workday in the office. Because as a freelancer, the more you produce, the more you make — and if you don't produce enough, you don't make enough.
The map above shows wages for creative freelancers around the country. San Jose has the highest median for self-employed workers, at $30.75 per hour.
4. Value risk.
The freelancer's need to constantly produce can lead to one of two emotions. The first is anxiety that you won't make enough to support yourself without a steady paycheck.
However, in order to make it, you need to side with the second emotion, which is the excitement of knowing your earning potential is unconstrained. If you're not feeling it, do what I did: fake it. The most lucrative writing gig I ever scored came when my bank account and I were one month away from having to leave New York City. In this situation, attitude was everything for me.
5. Know how you work best.
One of the joys of working for yourself is that you can work in whatever environment is best for you. Introverts like me will be relieved — and about a hundred times more productive — when they no longer need to keep their office doors open to boost some amorphous group morale. On the other hand, extroverts who feed off others' energy can join co-working spaces or develop intimate working knowledge of their city's best coffee spots. Find your tribe to find your flow, even if your tribe is just you.
6. Forget work-life balance.
Or at least forget work-life balance as conventionally defined by vacations, weekends and evenings free from work. Instead, embrace the atypical work-life balance freelancing will give you. The most satisfying moment in my freelancing life to date was an afternoon I divided between paddle-boarding in Malaysia and recovering with my laptop and some client copy on the beach. Unconstrained by a physical office, freelancing affords you the opportunity to spend your life as you see fit — as long as you deliver on time. 
7. Keep track of everything.
In an office environment, bosses checking in, colleagues working on the same project and constant meetings will likely keep you in line.
But once you take away the structure of an office and are forced to keep track of the moving parts on your own, you really must be on top of everything.
I employ a similar system to the magazine world, listing stories with due dates, specs and the status of their text, art, fact check, editing and copy. Use whatever works for you, but you need to have a system in place.
8. Know your worth.
Freelance rates are higher than salaried rates because you'll be expected to cover costs an employer normally would, like half of your Social Security and Medicare taxes. Always pitch as high a rate as you think you can get away with, and try to price per item rather than per hour.
Once you freelance, you should know that any hour for which you're not properly compensated is an hour you could have been making money doing something else. Time never meant money more than it does right now.
Also, make sure you're not leaving any deductions on the table when it's time to file your taxes.
9. Relish what freelancing offers you.
The ability to work anywhere is one of the biggest benefits freelancing will offer you. Be grateful for this and use the opportunities to energize you to work harder.
After that paddle-boarding lesson in Malaysia, I couldn't have been more grateful and energized to get to the copy that made it possible. This gratitude makes it a lot easier to buckle down and get your work done, so you know you'll be able to keep it up.