A New Invention From India Literally Puts Life at Your Fingertips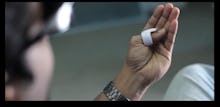 UI just got a lot more interesting, thanks to Fin — a wearable ring that turns your fingers into a wireless control system for Bluetooth-enabled devices.
Developed by Rohildev Nattukallingal (who usually just goes by his first name) and his Kerala, India-based company Fin Robotics, Fin is a ring-based control device that essentially turns a user's palm into a gesture interface. And it seems set to become a reality, barring any unexpected troubles during the development cycle. An Indiegogo campaign to crowd-fund the product's development ran from Jan. 8 through March 9 and doubled the original $100,000 goal, securing some $200,000 from nearly 1,500 backers.
Swiping your thumb down your index finger, for example, could turn your phone's volume down. Want to turn it back up? Just swipe back up across the same finger. Want to skip the current track? Swipe your thumb across the palm of the opposite hand.In future iterations, they hope to use biometrics to distinguish each segment of each finger. This would allow them to assign each segment a different behavior, essentially turning each section of your hand into a different button.
It's an innovative idea. In fact Rohildev's confidence is so high that the company insists Fin will become the go-to device for the world's 285 million blind people to easily use wireless devices. As proof of concept, they compiled this video of visually impaired people giving feedback on prototypes:
Not everyone is so psyched, though. Android Police's Bertel King, Jr. criticized the funding campaign, saying "someone should be ashamed" and that the various utilities promoted by Rohildev are not "particularly compelling."
"Heck, I'm not even sure most of them make sense," he adds, noting that consumers still may want to have direct control over their devices. King thinks a better UI is a stronger solution than replacing regular input entirely, and dares a backer to "write up a blog post about how you managed to use this more than twice before forgetting it in a drawer somewhere."
The history of online crowd-funding is littered with products that just didn't pan out, so time will tell if Fin really is as revolutionary as its makers believe — or if it's just another useless device languishing in a bin of old electronics.