The Girls Pictured Here Are Already Shattering the Glass Ceiling, and They're Only Kids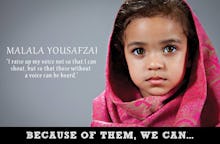 Who needs Disney princesses when you've got real-life heroines to admire?
That's the thinking behind Because of Them We Can, the inspiring new photo project by Eunique Jones. The series features photos of little girls dressed as influential women alongside famous quotes. It is objectively the most adorable list of feminist icons ever created.
Jones, a mother of two, launched her Because of Them We Can project last year in honor of Black History Month. The original photo series portrayed kids as important figures in African-American history, and quickly expanded into a 365-day mission to educate and connect "a new generation to heroes who have paved the way."
Jones writes on her website, "The same way that Because of Them We Can has helped expand the conversation in the African American community is the same way we want to expand the conversation in others. ... This is an ongoing effort, however, we wanted to highlight a few women who have helped break barriers and glass ceilings for us all."
The importance of taking time to teach our children about important female figures can't be overstated. Too often women's historical contributions are relegated to the footnotes of history books — if they're included at all. Jones' photos are a fantastic means to introduce the next generation to important figures they otherwise may not learn about. In presenting young girls with real-world role models, the photos encourage them to "dream out loud and reimagine themselves as greater than they are, simply by connecting the dots between the past, the present and the future."
Check out the project's awesome photos below.
1. Hillary Clinton
2. Gloria Steinem & Dorothy Pitman Hughes
3. Moms Mabley
4. Frida Kahlo
5. Dorothy Height
6. Malala Yousafzai
7. Michelle Obama
8. Janet Reno
9. Anna Maria Chavez
10. Anne Frank
11. Cheryl Boone Isaacs
12. Madeleine Albright
13. Mother Teresa
Image Credit (All): Eunique Jones