Meet the First African-American Trans Violinist Invited to Solo at Carnegie Hall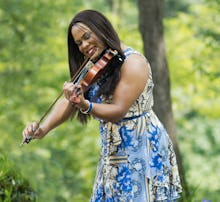 Named one of this year's "10 Transgender Artists Who Are Changing the Landscape of Contemporary Art" by The Huffington Post, Tona Brown, like many classical artists, has long dreamed of playing at New York's storied Carnegie Hall. This summer that dream will hopefully become reality as Brown is working to become the first trans violinist of color to grace the iconic stage. Equally impressive is that her headlining performance is scheduled to be the first LGBT Pride event at this legendary institution, according to GLAAD.
A classically trained mezzo-soprano and string player, Brown founded the Aida String Ensemble in 2005 to promote the arts in both the African-American and LGBT communities. At a 2011 Pride gala in New York City, she became the first trans person to perform for a sitting president when she sang the national anthem.
Brown spoke with PolicyMic about her dream to perform at Carnegie Hall, as well as how the culture of identity has shaped her personal politics and professional career.
"To perform at Carnegie Hall is a crowning achievement of any artist because of the sacrifice it takes to make it happen, and this stage has heard some of the greatest artists in American history," Brown said. "To perform at Carnegie Hall is a dream come true!"
Not simply a violinist, the multi-talented Brown said she uses her various talents to express different emotions.
Working in the sphere of the classical arts, Brown, who is currently soliciting donations to fund the performance, said her experiences as a trans woman of color have been shaped predominantly by the people she's met along the way.
"The classical world of music is very conservative, but you find that the musicians aren't really," Brown told PolicyMic. "We are very liberal for the most part, and LGBT people populate the majority of art programs around the world. It's just one of those unsaid things. The problem lies in the casting of roles by the administration, [who are] not your fellow artists. This can also be said about racial prejudices as well in symphony orchestra auditions."
The Carnegie performance is Brown's big break, and one that will thrust her onto a national stage. This type of visibility comes with increased responsiblity, Brown noted, and will certainly be an opportunity to represent the greater trans community. However, she said, it's also important not to drive yourself crazy.
"None of us are perfect and many have had to overcome tremendous obstacles to be the men and women that you see today," she said. "This leads for a colorful and challenging life ahead. But we must show the world love and compassion even to those that don't show it us."
Brown's identity is intrinsically linked to the intersecting experiences of being trans and black. These experiences cause you to "navigate the world differently," she noted, "and to survive is to always be aware that danger could be happen at any given time. Trans women have very few safe places anywhere right now."
Going forward, Brown said she plans to start touring again, primarily to colleges and universities, as well as to collaborate with mainstream artists around the world. 
"I have always said that an artist can make a huge difference, but you must live visibly and authentically," Brown said. "If that happens, you are shining your own 'light' unto the world and that alone will make a difference, because people will notice who you are and encourage you to be who they see doing great things."