One Country Is Responsible For America's Biggest Pop Songs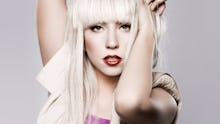 Years ago, pop fans cracked the great "secret" of pop music: almost every single major hit of the last 15 years was crafted by a Swedish songwriter named Max Martin, whose production credits read like a Now That's What I Call Music! tracklist on steroids.
But it turns out Martin wasn't the only Swede writing these tracks: There was a whole host of his fellow countrymen who were also contributing their musical fortitude to stateside singers.
If this is the first time you're hearing of The Great Swedish Invasion, some history: in the late '90s, American record labels began exporting pop songwriting and production to Sweden. That's because — for a number of reasons, including socialized education — Swedes are ridiculously good at writing music. Martin, whose syrupy sweet melodies made stars out of everyone from Britney Spears to the Backstreet Boys, reigned supreme. But there have been many others, too.
Though it's true that that not every Swedish person can craft an instant No. 1 if given a synthesizer and Apple Logic, they do have an alarmingly high success rate. Here are 14 hugely successful American pop songs that aren't so American after all:
1. "...Baby One More Time" by Britney Spears (Max Martin)
This is the track that turned Britney Spears into one of the biggest pop stars in history. With "...Baby One More Time," Spears (and Martin, who has the song's sole writing credit) hit the jackpot. It went on to sell more than 14 million records, making it one of the best-selling singles ever.
It more or less launched a new era of pop in America — all from Sweden.
2. "Bye Bye Bye" by 'N SYNC (Kristian Lundin, Andreas Carlsson)
'N SYNC were already stars by the time "Bye Bye Bye" hit the airwaves (thanks in part to the ubiquitous Martin, who wrote the group's first breakout hit, "Tearin' Up My Heart"). This, though, is the song we remember them for.
"Bye Bye Bye" was the lead single off the boy band's multi-platinum selling No Strings Attached. Although the song only hit No. 4 on the Billboard Hot 100, it remained in the Top 10 for 12 weeks. Not bad for the non-Martin Swedes among us. 
3. "Starships" by Nicki Minaj (Rami Yacoub, Carl Falk)
One of the more recent Swede-penned pop hits is Nicki Minaj's insanely catchy "Starships," co-written by Carl Falk and Rami Yacoub (with help from Brit Wayne Hector and Minaj herself).
Funnily enough, Yacoub normally writes with Martin; this was one of the few songs where he didn't. "Starships" ended up peaking at No. 5 on the U.S. Billboard Hot 100 and sold three million copies, not too shabby in the piracy age.
4. "Stronger (What Doesn't Kill You)" by Kelly Clarkson (Jörgen Elofsson)
Jörgen Elofsson was already responsible for Kelly Clarkson's debut single and first post-Idol hit, "A Moment Like This." Elofsson and Clarkson found success once again with "Stronger (What Doesn't Kill You)," which would eventually hit No. 1 on the charts and go on to sell five million records worldwide. It also popped up in a Toyota commercial. 
If ever you want proof of globalization, it's probably a commercial for a Japanese car starring an American singing a song written by a Swede.
5. "So What" by Pink (Shellback, Max Martin)
Shellback — better known as Karl Johan Schuster — is another regular Max Martin collaborator. They both co-wrote this Pink track, which has become the pop star's best-selling single to date, with more than four million copies sold.
It was also Pink's first No. 1 hit on the Billboard charts — performing even better than Shellback and Martin's other Pink songs, including the No. 1 hit "Raise Your Glass."
6. "Toxic" by Britney Spears (Henrik Jonback, Bloodshy & Avant)
Britney returned to Swedish form for "Toxic," a tune written by Henrik Jonback along with the Swedish production duo Bloodshy & Avant (who actually perform as successful indie band Miike Snow).
"Toxic" would go on to become one of the best-selling singles of 2004, with two million copies. Though the track failed to hit No. 1 in the U.S., it did so in six other countries. 
7. "Poker Face" by Lady Gaga (RedOne)
Contrary to popular belief, Lady Gaga has had a co-writer on many of her biggest hits, including her first single "Just Dance," "Love Game" and "Bad Romance." His name is Nadir Khat, better known as RedOne.
RedOne grew up in Morocco and emigrated to Sweden at the age of 19 to pursue a music career, eventually hooking up with Swedish producer Rami Yacoub. "Poker Face," co-written by RedOne, was the second single off Gaga's debut album, The Fame. It ranks as one of the best-selling singles of all time, having sold 13 million copies and topping the charts in 20 countries.
8. "On the Floor" by Jennifer Lopez (RedOne, Kinnda, AJ Junior)
Like most pop producers, RedOne has more than just one high-profile client. Here, he wrote Jennifer Lopez's "On the Floor" with eight co-writers, three of whom are Swedes (RedOne, Kinnda and AJ Junior).
That said, RedOne is the main architect, having co-written and produced the track (along with American producer Kuk Harrell). The 2011 single has sold over three million copies, and hit No. 3 on the Billboard charts.
9. "Because of You" by 98 Degrees (Arnthor Birgisson, Anders Bagge, Christian Karlsson)
98 Degrees' "Because of You" is certainly not the best-selling Swedish-written pop track of all time — but there's nothing shabby about hitting No. 3 on the charts and getting certified platinum.
It was written by less-known Swedes Arnthor Birgisson and Anders Bagge.
10. "Inside Your Heaven" by Carrie Underwood (Andreas Carlsson, Pelle Nylén)
Of course, Swedish songwriters aren't only limited to synth-y pop tracks. Their infinite powers are equally applicable to country.
On this track, Andreas Carlsson and Pele Nylén (along with American songwriter Savan Kotecha) lent their talents to Carrie Underwood. The track ended up winning the Top-Selling Country Single of the Year at the Billboard Awards, and also hit No. 1 on the U.S. Billboard Hot 100.
Because, once again, no one gets the heartland like the Swedes.
11. "Waking Up in Vegas" by Katy Perry (Andreas Carlsson)
Weighing in at No. 9 with more than two million in U.S. sales, "Waking Up in Vegas," isn't even close to Perry's biggest hit.
However, it was written by Swedish producer Andreas Carlsson (with help from Desmond Child and Perry herself).
12. "Piece of Me" by Britney Spears (Klas Ahlund, Bloodshy & Avant, Christian Karlsson)
If you're noticing a trend, that's because Britney is the greatest advocate for Swedish pop auteurs. This 2007 single, off her studio album Blackout, was an all-Swedish affair, with mainstays Bloodshy & Avant and Christian Karlsson co-writing with Klas Ahlund.
The song sold almost two million copies in the U.S., but only peaked at No. 18 on the U.S. Billboard Hot 100.
13. "Rain Over Me" by Pitbull (Bilal Hajji, AJ Junior)
Another track that's loaded with co-writers. This one got the assist from Swedes Bilal Hajji (aka The Chef) and AJ Junior.
These two often collaborate with the aforementioned RedOne, who handled the production on the track.
Weirdly, this sold more than five million units in Norway.
14. "Shape of My Heart" by Backstreet Boys (Rami Yacoub, Max Martin, Lisa Miskovsky)
For our final track, we couldn't help but return to the boyband era and Head Boy, Max Martin. Martin wrote the Backstreet Boys' tune, "Shape of My Heart," with Swedish songwriters Rami Yacoub and Lisa Miskovsky. The song hit No. 9 on the Billboard charts and sold more than two million copies worldwide.  
As pop songs go, that's pretty incredible. As Swedish pop songs go, Martin could probably take it or leave it.