8 Ways Vintage Lovers Will Fall in Love With Cairo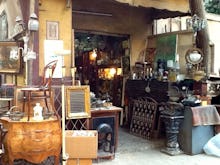 Nothing in Cairo ever goes to waste. This is the place with a whole district devoted to recycling, as well as enormous flea markets and a plethora of skilled artisans who can work with almost any material. Objects are kept in use far longer than some would expect, as you can see from this brilliant street-level documentation project "1001 Street Chairs of Cairo" by designers Manar Moursi and David Puig. 
Perhaps this is why Cairo doesn't have a vintage shopping scene in quite the way Westerners understand the idea. According to Abdallah Rushdi, editor-in-chief of Cairo Fashion Report, "the [vintage] industry is in the process of being created, and the idea is not common knowledge."
Instead, if you want to avoid the high street, there's a vast gap between the heaving, chaotic secondhand markets and the overpriced boutiques catering to ladies of a certain age/budget.
This is field-to-plate shopping: You've got to go to the source, hunt down unique things and, if necessary, find the craftsperson to repair or adapt it for you. It might be a hassle, but in a city like this the world is pretty much your oyster, and you will have great stories to tell.
So here's a step-by-step guide to finding off-the-high-street clothes and things, the Cairo way.
1. Buy almost anything in Souk Al-Goma'a (Friday Market).
This is not news — it's a staple of the guidebooks. But all Cairene thrift begins and ends at the Friday Market, so it can't be overlooked here. 
French philosopher Michel Foucault once wrote about a Chinese encyclopedia where the world of objects is classified on bizarre, unlikely combinations: The Friday Market is like walking into it, as it has major subsections on secondhand clothes, furniture, animals, books, technology and almost anything else sandwiched in between. You have to hunt, bargain and search through almost endless materials.
It's dirty, extremely crowded and more than averagely harassy — women should, unfortunately, dress unobtrusively and consider bringing a friend and an attitude. If you can handle the stress and can make a good bargain, this is the ideal place to find almost anything.
As the name implies, it happens only on Fridays (around 8 a.m. to 6 p.m.), presumably so that everyone can spend the rest of the week recovering.
2. Dive into Wikalat Al-Balah.
This thrift market focuses mainly on secondhand clothes and fabrics and stretches all the way between the Nile Corniche at the 15th May bridge to the area of Bulaq.
While traffic thunders overhead and microbuses squirm through the crowds, you can browse endless rails of clothing organized by garment and price. Prices range between 30-50 EGP (roughly $4-$7 U.S.).
Here the trick is thoroughness and persistence — nobody's sorting the gems from the trash — but I managed to find a Simply Vera by Vera Wang piece of loungewear for 50 EGP and a perfectly acceptable as-new H&M dress for 30 EGP. Meanwhile, over near the turning to 26th July Street, is where Wikalat really shines: its huge, extensive fabric market, which helps us with step 3.
3. Find a good tailor.
Quality tailoring is an affordable luxury in Cairo, and if you ask around you can find people hand-making clothes and working closely with customers to make something perfect.
Chemiserie Gamal on Abdel Khalek Tharwat Street, downtown, has been in business since the 1940s and has barely changed in that time. Specializing only in shirts, you can select from their wide range of beautiful cottons or bring your own fabrics, and can have them custom-made at around 200 EGP ($28) for one or 1000 EGP ($145) for seven. 
4. Visit Fatima.
Numerous shops sell folkloric, recycled and handmade clothes and objects — Fair Trade Egypt on the chichi Nile island of Zamalek is a good bet — but in most places quality and/or variety is often limited.
Fatima, just off 26th July Street and also in Zamalek, is a tiny warren where every surface sports mirrors, jewelry display cases or railings stuffed with handmade, recycled and traditional-inspired clothes from Afghanistan, Iran, Syria, Iraq, India and Turkey, with prices ranging from 150 EGP ($21) for a large silk scarf to 450 EGP ($65) for an embroidered jacket. Many items are recycled from beautiful antique fabrics into modern pieces, such as an Afghan wall hanging I found for 400 EGP ($57). For veiled or "conservative" dressers, the numerous tunic styles, loose trousers, and exquisite silk scarves offer massive possibilities for mix and match with more contemporary basics.
As always, Westerners should probably be wary of cultural appropriation, but each piece is an invitation to know more about the craftsmanship, go beyond "dress-up" and integrate pieces carefully into a wardrobe.
5. Accessorize.
Eman Mohamed Refat's inheritance from her mother Soraya Mustafa was two rooms full of sunglasses and spectacle frames, collected since her mother opened her eponymous shop in 1964.
Just opposite the infamous Horreya bar in Bab Al-Luq, downtown, it looks like any other downmarket Cairo optician, but in fact it's a treasure trove. Here I found a pair of blue Pierre Cardin sunglasses with two-tone tinted lenses, and during one of the increasingly frequent power cuts we agreed on 125 EGP (about $17) for them. Eman may offer a small discount if asked nicely, but this is not a place for market-style haggling. Most frames are unused vintage, and though they're mostly not designer, the range is very special.
But does Eman enjoy the work? "No," she said, giggling. "I want to finish." Thankfully there are two rooms of sunglasses left before she does, and I involuntarily picture myself roping her to the counter so the shop stays open. 
6. Keep your eyes peeled.
Informal and miscellaneous sellers can be found almost anywhere, from the trinkets guy whose shop is a white bedsheet laid out on the pavement of Talaat Harb Square, downtown, to the shop on Soliman Gohar Street in Dokki whose contents spill out halfway onto the road.
In places like this I've found a beautiful old leather-bound copy of John Ruskin's The Political Economy of Art (20 EGP/$3) and a gold-plated 1920s cigarette case (90 EGP/$12). Here, it's all about sorting the interesting stuff from the worthless — and haggling hard.
7. Check out the antiques trade.
Hoda Shaarawy Street in downtown Cairo is probably the most well-known place for antiques, where most pieces are of the heavy dark wood or gilded furniture typical of aspirational Egyptian households. But with a bit of persistence you can find more fun in bits and pieces — pretty glass lampshades for 250 EGP ($35) and an original His Master's Voice record of Paul Robeson singing spirituals for 30 EGP ($4). The vinyl hunter in me is satisfied, but most of Hoda Shaarawy feels too formal.
Over in Zamalek, I strike up a conversation with Sayed Megahed and his son Mohammed, who run a small and enticing antique/thrift space just off 26th July Street. Sayed's business has been there since 1952, the year of the Egyptian Officers' Revolution that heralded the end of British rule in Egypt.
This is no coincidence: His shop is next to the famous Baehler Mansions, an emblematic, palatial residence of colonial figures. When the revolution kicked off, Sayed's father accessed all the furnishings hurriedly sold by the inhabitants, and the family shop has been there ever since.
Aside from lovely pieces of furniture and mirrorwork, the shop feels more accessible, selling trashy 1980s paperbacks alongside curios and lamps. Mohammed shows me an original, still-working 19th century oil lamp for $200 EGP ($28), and again I think regretfully about my lack of savings. 
8. Look up Batata.
Cairo's markets in particular are an upcycler's paradise, keying in well with the global trend for eco-friendly design. Brand-new furniture is relatively expensive, largely because most wood is an expensive import to Egypt, and the habit of buying furniture by the entire room, upon getting married, as a lifetime investment.
So it can be just as cheap, if not cheaper, to refurbish something yourself. The problem generally is that many beautiful things are in terrible condition; the solution to this is building up a good set of contacts with reliable artisans.
Mariam Elias, known as Batata (sweet potato) to everyone who mentions her, tapped into this with her furniture and interiors line, Paradoxia. She focuses on redesigning iconic furniture found in markets, mixing design periods and cultural influences.
She tells me the story of a Marcel Breuer chair she found in catastrophic condition in the Friday Market. "It was 25 EGP ($3.50), and completely unusable," she said. Working with craftsmen to recondition the piece with traditional basketweave, she started building up her first collection of unique modernist objects with a local twist.
Elias' work is part commercial concern, part sociological art project. She was recently approached by the Downtown Contemporary Art Festival (D-CAF) to design their artists' lounge and cafe.
"It was a chance to do things that wouldn't do well commercially," she said. "I had done a lot of research into the interiors of typical Egyptian working-class homes and produced a room that played with these tropes." She shows me the space, featuring a large, kitschy wallpaper print of a forest scene and an old velour couch reupholstered in patches of pretty modern fabric alongside nostalgic floral prints.