A Terrorist's Bomb Blew Up in His Face After He Forgot One Simple Thing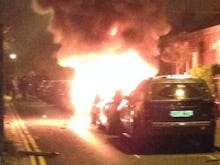 Daylight saving time is a tricky thing: if you forget to set your clocks, you could easily wake up late for work or show up too early. And if you're a terrorist bomber, a bomb might just blow up in your face.
At least that seems to be the case for one would-be bomber in Dublin, who fled the scene on Sunday night after a bomb unexpectedly detonated on him. A likely reason? The U.K. and Ireland switched to summer time on Sunday morning.
"It would appear that the bomber got his timings wrong. It could be a case where he didn't put his watch forward on Sunday [at 1 a.m.] and the timer went off too soon," a senior police source told the Mirror. "If anyone had been in the car or walking near it at the time then they would have been killed."
The target was a Volvo SUV parked on a crowded street. It belonged to a local businessman and was completely destroyed in the explosion. The motive of the attack is not yet clear.
The police are still searching for the suspect, who fled in a taxi. Luckily the blast didn't harm anyone else, but it sounds like the bomber got more than he was expecting.
"His entire face was covered in what I thought was blood, but now know were severe burns," an eyewitness told the Irish Examiner. "He was running down the street with his hands up to his face screaming 'please help me, please help me.'"
And if that's not bad enough, the police are broadcasting their concern for him. "As a result of our enquiries we are making an appeal for that man to come forward. We believe he may have significant injuries as a result of this incident and we believe he might require urgent medical attention," said Dave Taylor, a Garda press liaison.
If that doesn't destroy your bomber cred, nothing will. Tough luck.